Microsoft promised to permanently end Wunderlist when it bought the popular to-do app in 2015, but only after recreating all of the app's top features into a new one to replace it. After five years without Wunderlist, To-Do still falls short of the top to-do list applications due to the absence of essential features that are the cornerstone of many of its rivals.
Perhaps there is no need to introduce Microsoft, the firm. The vast majority of personal computers today are powered by the American software behemoth's Windows operating system.
In April 2017, Microsoft To Do's initial release was made public. Microsoft did not release the app's complete version until two years later. The user design of the To-Do app is quite similar to Wunderlist, a to-do list software that Microsoft bought in 2015.
Cost of Microsoft To Do
The fact that Microsoft To-Do is free is a great feature. There are no fees associated with anything. You need a Microsoft account, a Microsoft-hosted corporate or educational email, an Outlook.com email, or Skype credentials to download the program, which is available for Android, macOS,  iOS, Windows, and the web.
The business can afford to give out a lot of software since it generates enough money from licensing software and selling hardware.
Interface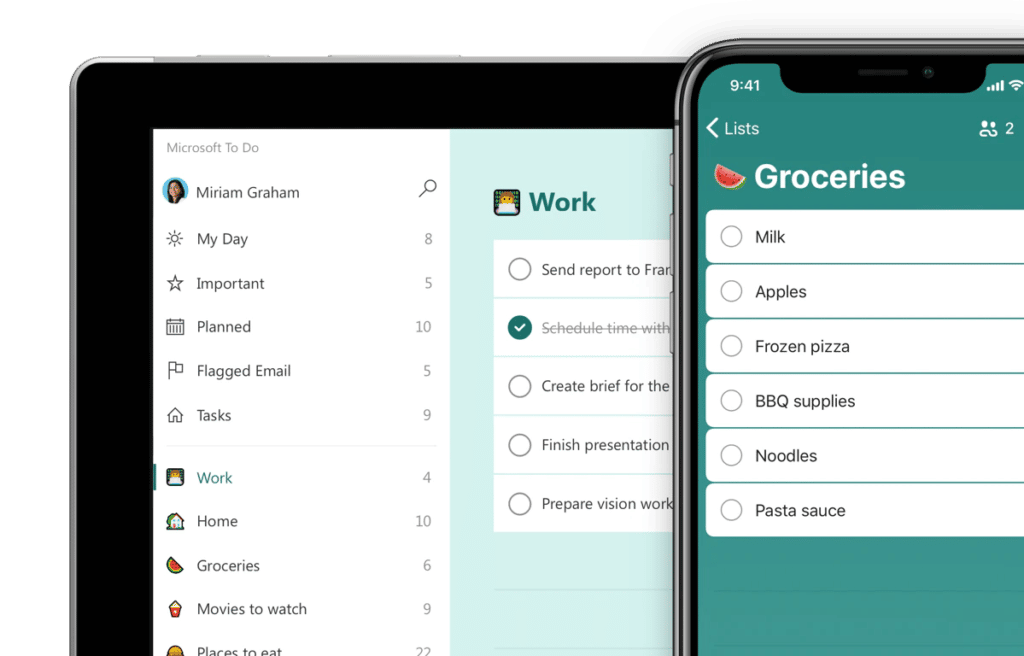 With a navigation bar on the left displaying several options for viewing your tasks, supplementary information on the right when available, and the tasks themselves in the center, Microsoft To Do's user experience is similar to that of many other applications in the market.
You may construct views and lists of tasks in that left rail. There is no method to create your own distinctive views; all view possibilities are predefined. The ones you receive are My Day, which displays all chores with a deadline today, and Important, which displays tasks with a star next to them. You may construct custom views, also known as filters, in other, more sophisticated programs so that you can choose which tasks to display.
What tasks you can perform with Microsoft To Do?
With Todoist, you may build and store a custom filter that functions as an advanced search and includes options like all tasks in the Personal list that are due within the next week or all tasks with the high priority label that have passed their due date. It is not possible to make custom views in Microsoft To Do.
You may arrange things into lists like "Personal To Dos," "Work Tasks," "Shopping List," and so on. You are free to choose what those are. Things is a to-do list software that offers two alternatives to standard lists: Area and Project. A project is just a goal with many smaller tasks attached so you can track what has to be done to get there.
Lists may now be organized into folder-like groupings.
In To Do, you may add details to your tasks, including due date, reminders, attachments, comments, and subtasks, which are referred to as stages in this task-management tool. Although you may add a time to a reminder, you cannot add one when choosing a due date.
Features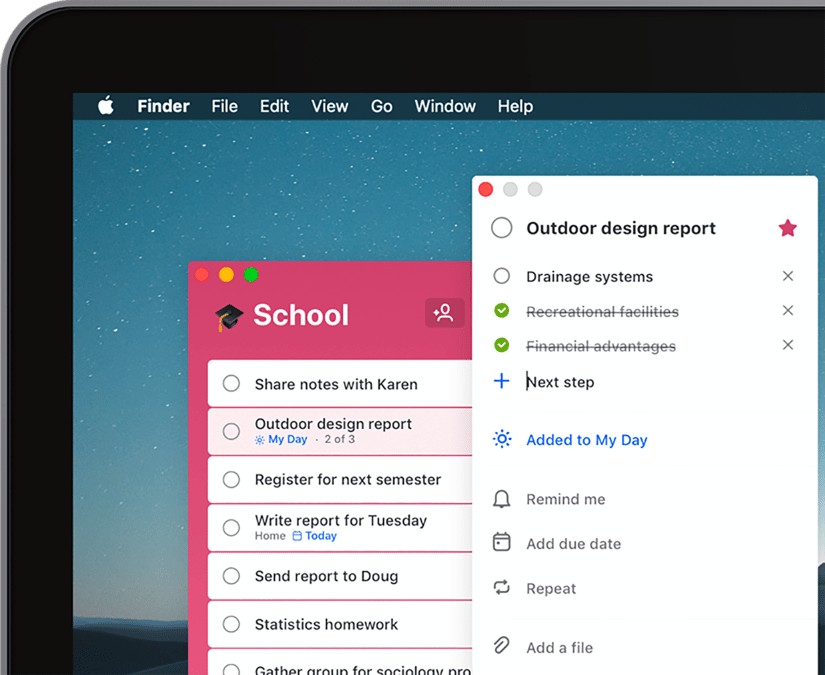 The initial prerequisite for using the To-Do app is a Microsoft account that can access all of the company's services. If you're one of the 1.4 billion Windows users worldwide, you probably have a Microsoft account. If not, making one for yourself is simple. All you need to do is visit account.Microsoft.com to learn the rest.
Add Tasks Function
The adding tasks function should be the first thing you see when you start To Do. Locate the Add a Task button and click it to enter any task. You may add tasks, give them due dates, assign them to categories based on priority, or make comments. One may also create a reminder so that the app will alert you with an alarm when something is due.
Tasks Arrangement
You may arrange the tasks you've generated alphabetically, by significance, due date, or other criteria. People who have a lot of things to complete but find it challenging to do so separately might benefit from this feature.
Sort Tasks
The sorting functionality of the To-Do app is helpful for task organization, but it is not as effective as grouping functionality, which the app lacks. Todoist, a well-known to-do list tool, is one where you may combine many things under a single heading to keep you organized.
Collaboration
Collaboration is supported to some extent by the To-Do app. You may invite others to join any task list through an email invitation or a direct link. However, to access it, users need a Microsoft account. To Do lacks a view-only mode, which we think is a flaw.
Microsoft hasn't provided much despite having pledged to connect the To-Do app with some of its apps. The most significant action you can do right now is to mark an email as a task in Microsoft Outlook. 
Extra Features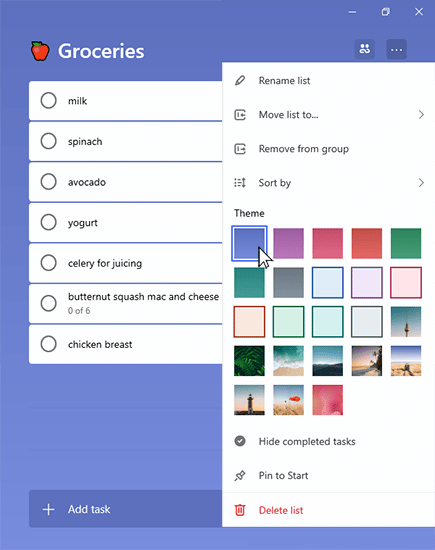 Repeat Tasks
You can set up repeating tasks using the on-screen settings, but unlike Todoist, you can't enter them using everyday language (such as "every other Sunday"). There are no gradations of significance or priority, such as low, medium, or high, as you find in many other applications. Still, you may give a task a star to indicate that it is significant.
Tags
To-Do uses a similar approach to Wunderlist in offering tags, which is scarcely advanced. You must precede any term you want to add a tag with the # symbol in the task name field. A list of all tasks that utilize a certain tag will appear when you click on it or search for it in the search field. A complete list of the tags you've generated, which is displayed in the navigation rail in other applications, is what you don't receive. Additionally, tags cannot be used in Microsoft To-Do for the previously stated custom filters, views, or advanced searches. This is undoubtedly a wasted opportunity.
Add Steps
Any job can include additional stages, sometimes subtasks, although these steps are only a checklist. No information, not a due date, assignee, or attachment, can be added. It's helpful to know that Todoist and Asana contain subtasks and assign them the same weight as another task you've created if subtasks are significant to you. Additionally, steps strangely show on the far right rather than below the primary job and are slightly recessed, which is where you might typically seek them.
Support
The To Do app's FAQ page, which has answers to frequently asked questions, should be your first stop if you face any difficulties. This page is simple to reach on the desktop, mobile app, or online interface.
The details on the FAQ page might not satisfy you. In this situation, you can use live chat to speak directly with a member of Microsoft's support staff.
Microsoft To Do or Todoist, which is preferable?
Microsoft has worked hard to offer more and more capabilities for people that require everything to be organized, but the functionality is still not there yet. Todoist will continue to be the default choice unless you require collaboration. To-Do is terrific if you need the essentials with some extra capabilities.
Can one sync Microsoft To Do with Google Tasks?
The Task gadget in Gmail allows you to access the same tasks you see in Outlook. All thanks to Google Workspace Sync for Microsoft Outlook (GWSMO). The primary task list in Gmail and the primary tasks folder in Outlook are synced. You may sync any additional top-level task folders you make in Outlook with different task lists in Gmail.
Conclusion
Since To Do's first release, Microsoft has introduced more capabilities, but the productivity application still falls short of the competition. Better options are plentiful.
To-Do is a great option if you need a basic task management tool that you can use for free. However, there won't be as many functions available as in a full-featured task management program.
Read More: