Although consumers have been waiting a long time for the upgraded mac mini to release, the Mac mini with M2 has finally arrived. On January 24, 2023, the new Mac mini M2 started shipping, which is available for $599. Apple says M2 offers 50% greater memory bandwidth than the entry-level Mac MINI M1. This is advantageous because the M2, which drives Apple's latest MacBooks, is a development of the extraordinary M1 CPU, which made its debut in 2020. However, the following is our Mac Mini review, including ports, design, memory and storage capacity, specifications, etc., which you should consider before purchasing!
Overall Summary
Macbook Mini M2
The Mac mini was released on January 24, 2023, with Apple's M2 and M2 Pro chips, replacing the prior M1 and Intel-based models at a lower $599 price point. The M2 Mini provides remarkable speed and is powerful because of its 8 CPU cores, 10 GPU cores, up to 24GB unified memory, two Thunderbolt 4 connections, two USB-A ports, an HDMI connector, Wi-Fi 6E, Bluetooth 5.3, Gigabit Ethernet, and headphone jack. Traditional RAM on a Mac is outperformed by unified memory.
Apple silicon in MacBook Mini M2 can move data quickly to ensure that everything users do is fluid due to a single memory pool with high bandwidth and low latency. It includes all-flash capacity for all of your photo and video libraries, files, and apps. Industry-leading privacy and security capabilities, including integrated malware and virus defenses, are provided by M2 for the Mac mini.
Pros:
Powerful

Compact, quiet, and appealing on a desk

The classic Mac mini design
Cons:
No user-repair or upgradeability

Storage and memory cannot be upgraded.

If you have wireless peripherals, the setup might be challenging.

Absence of a keyboard or mouse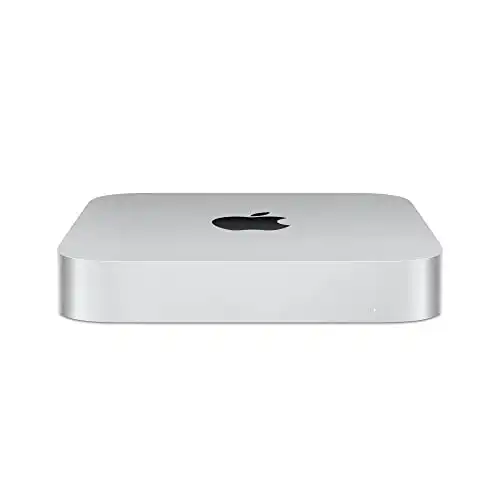 Highlighting Specifications
| | |
| --- | --- |
| Price | $599 |
| Weight | 1.18 Kg |
| Processor | Apple M2 chip |
| Storage | 256GB or 512GB SSD |
| Graphics | Up to 10-core GPU |
| Memory | 8GB |
| Audio | 3.5mm headphone jack with sophisticated high-impedance headphone compatibility, built-in speaker, and HDMI port allows multi-channel audio output. |
| Ports | Two USB-A and Thunderbolt 4 ports |
| In the Box | Mac mini, Power cord |
| Color | Silver |
Ports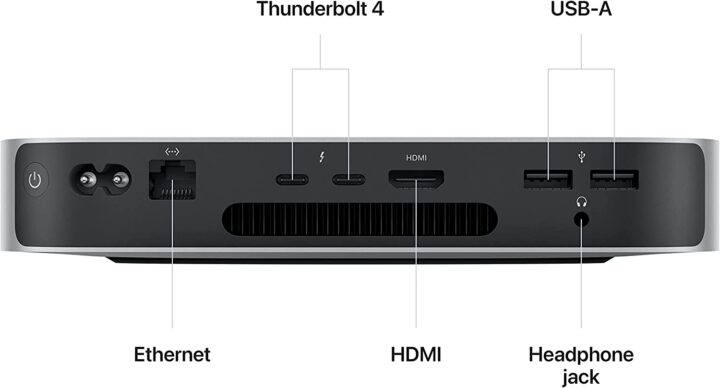 Mac mini offers a lot of connections and a variety of ports. The rear of the Mac mini M2 has a respectable selection of connectors, and if you purchase a Macbook Pro chip, it becomes much better. It's also important to note that the Mac Mini features Ethernet, HDMI, and USB-A connectors, which are excellent for the extension yet are uncommon in certain other Macs, even highly costly ones. Mac mini has two thunderbolt port which is available on the M2 Mac Mini. Apple claims that the redesigned headphone connector now supports high-impedance headphones. The 10 Gigabit Ethernet port may also be upgraded.
Design and display support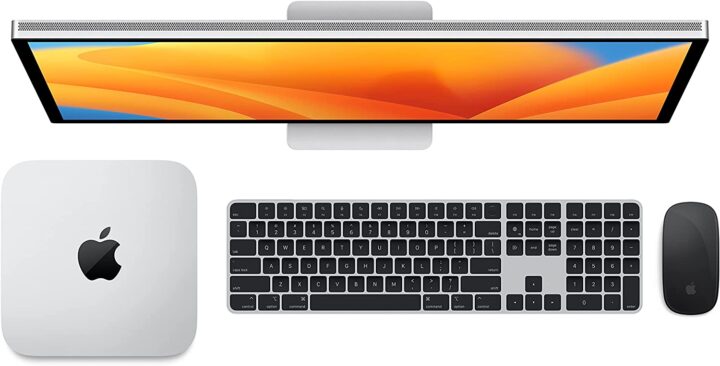 Mac mini is built using 100% recycled materials to reduce its environmental effect. The Mini is made to operate in the background, compact into tight areas, and connect to the displays and interfaces of your preference. The Mac Mini M2's appearance resembles the Mac Mini M1 nearly precisely. The low-slung Mac mini M2's dimensions of 7.7 x 7.7 x 1.4 inches make it simple to fit into various setups.
It features rounded sides and a silvery metal chassis with a large, black App icon on top. The raised base of the Mac Mini M2 tapers down from the rounded rectangular chassis to a round black plastic disc that covers the bottom, giving the impression that it is hovering slightly above your desk. From the front, it is an almost flawless aluminum slab punctuated only by a tiny power light.
The M2 model has a maximum resolution of 6K/60Hz and supports two displays. Apple claims that the Mac Mini M2 only supports two screens. However, the MacBook M2 Pro variant supports up to three displays, despite Thunderbolt 4 being capable of powering two 4K monitors at 60Hz. If you want to add screen accessories, Apple suggests a mac studio display since it puts its 12MP camera and 27-inch 5K retina screen front and center. The power and simplicity of macOS Ventura combined with Studio Display and Magic add-ons provide a great desktop experience that will boost users' productivity and creativity.
Performance

Mac mini with M2 is ideal for consumers searching for lightning-fast speed and exceptional productivity at an even more reasonable starting price. It is a device that offers a little bit greater performance without the Mac Studio's more significant price tag. It provides improved connection, quicker performance, and even more unified memory, including support for up to two screens. For excellent sustained performance, the Mac Mini M2 and M2 pro mac mini chip versions both include cutting-edge thermal design.
It offers exceptional performance and market-leading power efficiency. It has an 8-core CPU with four high-efficiency cores, four high-performance, and a 10-core GPU. However, the M2 Pro mac mini chip has more features and higher performance than the M2 chip. It highlights faster gameplay in Resident Evil Village's performance, claiming that the M2 Mac Mini runs the game 35% quicker than the 2020 M1 edition.
Memory and storage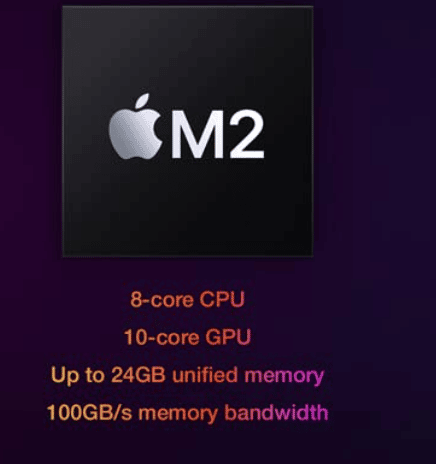 8GB of unified memory, a 10-core GPU, and an eight-core CPU are all included in the Mac Mini M2. The maximum amount of unified memory is 24GB. Traditional RAM on a Mac is outperformed by unified memory. Apple silicon can transport data quickly so that everything you do is fluid, thanks to a single memory pool with high bandwidth and low latency. Large file processing and multitasking are both made simpler by more memory.
Up to 2TB of storage is available, with SSD starting at 256GB or 51512 GB. Your video and photo libraries, files, and programs are all stored on the all-flash storage with the Mac mini. The relative lack of RAM and space is the mac mini M2's biggest drawback.
Is the Mac Air M2 superior to the M1?
According to Apple, there should be visible gains as the M2 offers 50% greater memory bandwidth than the M1. The quantity of memory, though, makes the most effect. The M2 Mac Air can accommodate up to 24GB of memory, compared to the M1 Mac Air's maximum of 16 GB.
Is the M2 chip superior to Intel?
According to Apple, the M2 Mac is slower than a Core i7. Expectations for Apple's new M2 desktop to outperform Intel's top CPUs have been quite high, but in the end, the M2 won't do so.
Is M2 more effective for gaming?
It outperforms the 8th Gen Intel Core GPUs seen in the previous Intel-based MacBooks and is far quicker than Intel's current integrated graphics solutions. The M2 processors outperform M1 chips by 1.4 times and Intel-based Mac Air choices by 15 times. They also feature outstanding Apple next-generation proprietary technology, greater memory, and enhanced security. However, it won't be a great gaming option.
Conclusion
In our mac mini review, the Mac Mini M2 is ideal for a little Mac desktop since it is more affordable and quicker than its predecessor. Users may combine it with one of Apple's Studio Displays to create a superb iMac alternative or pair it with a cheap monitor to create a budget-friendly workstation. Despite not being designed for gaming, the Mac mini M2 can run many of the most recent Mac-compatible games at 1080p or higher, and upgraded models with a fully loaded M2 Pro Chipset and 16GB of RAM may deliver respectable performance.
Read More
MacBook Mini M2 With Exceptional Performance (2023)!
Ports

Design

Performance

Memory and storage
Summary
Mac mini m2 offers 50% greater memory bandwidth than the M1 which is advantageous because it drives Apple's latest MacBooks. The Mac Mini M2 is ideal for a little Mac desktop since it is more affordable and quicker than its predecessor.