Sonos speaker is renowned for its wireless multi-room speakers. It might be challenging to choose the right one for your needs. To assist you in selecting the speaker that is perfect for your needs. You need to know about Sonos and the speakers.
Sonos was established in California back in 2002. Since then it has been setting standards and setting the stage in the multi-room speaker market. There isn't much to dislike about the Sonos series of speakers. They are made to be simple to operate, elegant, and sound terrific.
The Sonos Arc soundbar with Dolby Atmos was one of a number of new speakers that Sonos unveiled in 2020. A new S2 app is also available to use with them, however, it has compatibility concerns with earlier devices.
With the Move and the considerably smaller Roam, Sonos has also been experimenting with Bluetooth. These offer the advantages of the typical multi-room experience and may be moved outside into the garden or beyond.
Be aware that some speakers' pricing jumped in September 2021 by as much as £100 ($100) without any clear justification.
Sonos One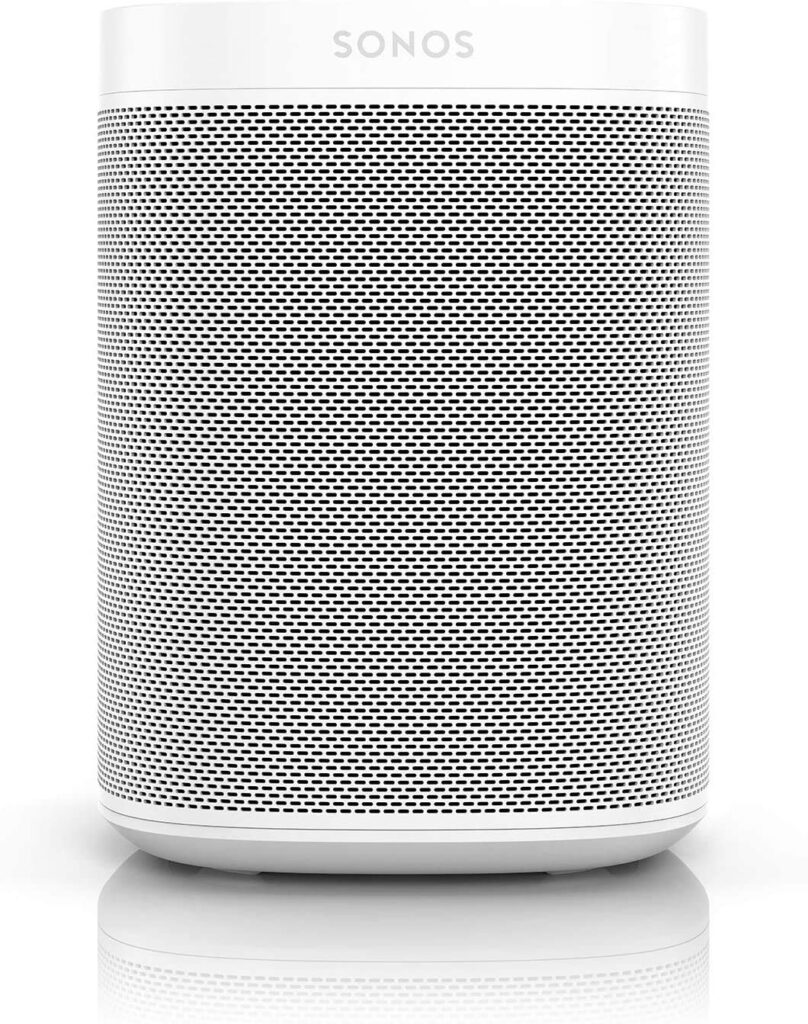 The Sonos One is a premium smart speaker that is essentially a One SL with built-in voice control for Alexa and Google Assistant. You would have liked some voice commands specific to Sonos that most people would anticipate.
It costs more than many other smart speakers, but it's worthwhile because it provides significantly better build quality and sound than non-Sonos competitors.
It's a terrific place to start as an all-arounder to create your Sonos system.
Sonos Roam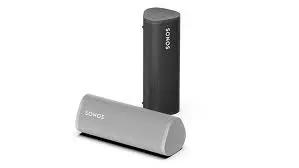 Following the Move, Sonos has created the aptly called Roam, which is now offered in three additional colors.
Although its larger brother may potentially go anywhere, because of its size and weight, it is better ideal for use in the garden. The Roam weighs only 430g and is 1/6th the size (vs 3kg).
In addition to being IP67, which makes it more robust, the innovative design allows for wireless charging and works in either an upright or landscape posture.
The battery life falls short of comparable competitors and Bluetooth can only be used for streaming, therefore it doesn't receive full points. But with features like Sound Swap, the Roam is made to be a part of a Sonos system.
You could possibly utilize Roams throughout the house for a simple multi-room setup even if you don't currently have any Sonos speakers.
Sonos Arc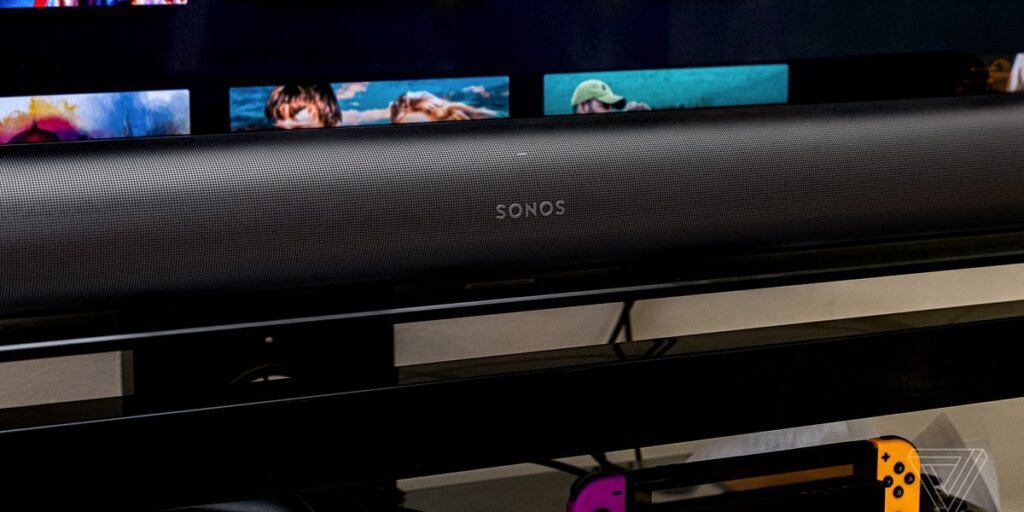 The Sonos Arc is the greatest soundbar Sonos offers.
It supports Dolby True HD and Dolby Digital Plus sound codecs, ensuring that your Blu-ray discs and streaming services provide the highest-quality lossless audio possible. Then, it improves the 3D audio environment by using Dolby Atmos object tracks to reflect some sounds off the surrounding walls to give them an omnidirectional effect.
Even though it can seem hard, setting up a Sonos Arc only requires a few clicks using the smartphone app. The Arc is the greatest soundbar you can buy because of its clean aesthetic, fuss-free feel, and few cable connections. It is also built as an all-in-one system.
The Sonos Arc is a terrific option if you want an all-in-one home audio system because it is also great for music listening.
Sonos Beam (Gen 2)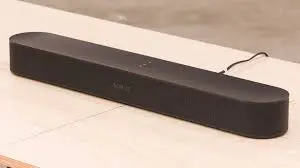 The Sonos Beam (Gen 2) is the company's top soundbar if you don't have a lot of room.
Because of its small size and sleek style, it will blend in seamlessly with your decor whether you mount your TV to the wall or position it on a TV stand.
With virtual Dolby Atmos, HDMI eARC compatibility, and an updated design, it enhances the company's original Sonos Beam soundbar.
The Sonos Beam (Gen 2) offers an expansive soundstage and an immersive audio experience even though it lacks the upfiring tweeters required for "real" Dolby Atmos (resulting in a sonic height less spectacular than that of the Sonos Arc).
Hi-res audio streaming is possible thanks to HDMI eARC compatibility, making it perfect for music listening as well.
Sonos Move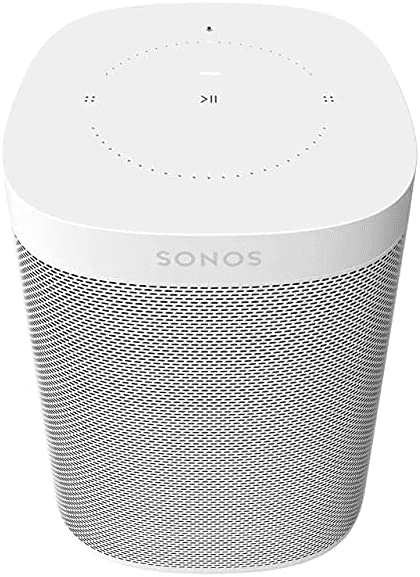 The One SL is the least expensive speaker in the lineup (excluding the Ikea speakers) and takes the place of the previous Play:1, which was a standard speaker.
It hasn't altered all that much, but it didn't really need to. Without the microphones for voice control through digital assistants, this is essentially the normal One. Touch controllers and AirPlay 2 are among the features you receive.
If you don't need or want Alexa or Google Assistant, get the One SL. For instance, using them as back surrounds with one of the home theatre speakers or pairing the One with them to create a stereo pair.
Sonos Play 5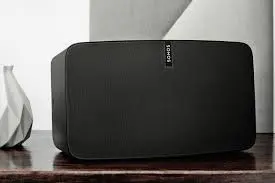 The Sonos Play:5 is the greatest Sonos speaker you can get if you want pure audio quality and sound that fills the room.
The S2 app, which has built-in integration for a variety of streaming services like Spotify, Tidal, Apple Music, Deezer, TuneIn, and a broad range of smaller providers, is used to directly operate the Play:5 as it is with other Sonos speakers.
If you want to build a full surround sound system, you can add extra speakers like the Sonos Play:3 and the Sonos Play:1 because the Play:5 has the multi-room capability, but if you want to keep it simple, the Play:5 gives more than enough volume.
Are Sonos speakers better than Bose?
Both Sonos speakers offer high-quality audio and integrated voice commands through Amazon Alexa or Google Assistant. However, when it comes to pairing and connectivity, Bose is superior to Sonos. Bose allows you to stream music over WiFi, AirPlay, and Bluetooth, however, the Sonos One can only perform songs over WiFi or AirPlay 2.
Are Sonos speakers high quality?
Sonos now supports 24-bit/high-resolution audio via the streaming service Qobuz. The ability to create playlists directly from the Sonos app and from a variety of sources is one of the system's strongest features.
Are two Sonos speakers better than one?
When you just want to shift the music that is now playing to another area of the house, having more than one Sonos One speaker is advantageous. This is especially true for large homes that may even have many stories.
Conclusion
The ecosystem is one of the crucial features of Sonos speakers that makes them the standard for home audio. Small speakers you can put in your bedroom and bases you can put under your TV are just a few of the speakers that Sonos sells, and they all function flawlessly with one another.
The Sonos Arc is the company's greatest soundbar yet. The inbuilt voice assistant, HDMI eARC, and Dolby Atmos playback are just a few of its fantastic features. The system doesn't require a subwoofer, unlike the Beam, so unless Sonos releases a less expensive Sub, this is the best sub-$1,000 purchase you can make.
If you enjoy home audio, Sonos speakers are among the best available. A 5.1 surround sound system can be set up in your living room using many speakers, or you can purchase a single speaker for your room. Even though the Sonos selection isn't very large, it can be challenging to distinguish between different models.
Read More: