The Adidas FWD-02 Sport is truly wireless earbuds designed squarely for runners. They offer a secure, sweat- and weather-resistant construction. A huge, strong sound, and enough battery life to carry you through a complete week of running.
The wireless earbuds check all of our boxes, and you can find a sound profile that seems a touch more adaptable on buds from Bose, Jabra, and JBL. The FWD-02 more than holds its own in terms of power, and Adidas also gives you the option to adjust that sound profile.
The FWD-02 Sport has a lot of features for the price. However, it lacks active noise cancellation, which is already available on competitive running headphones. Despite even said, if you're searching for a unique set of earbuds that stay in place and sound great. The FWD-02 is just what you're looking for.
Design and features of Adidas FWD-02
Silicon wingtips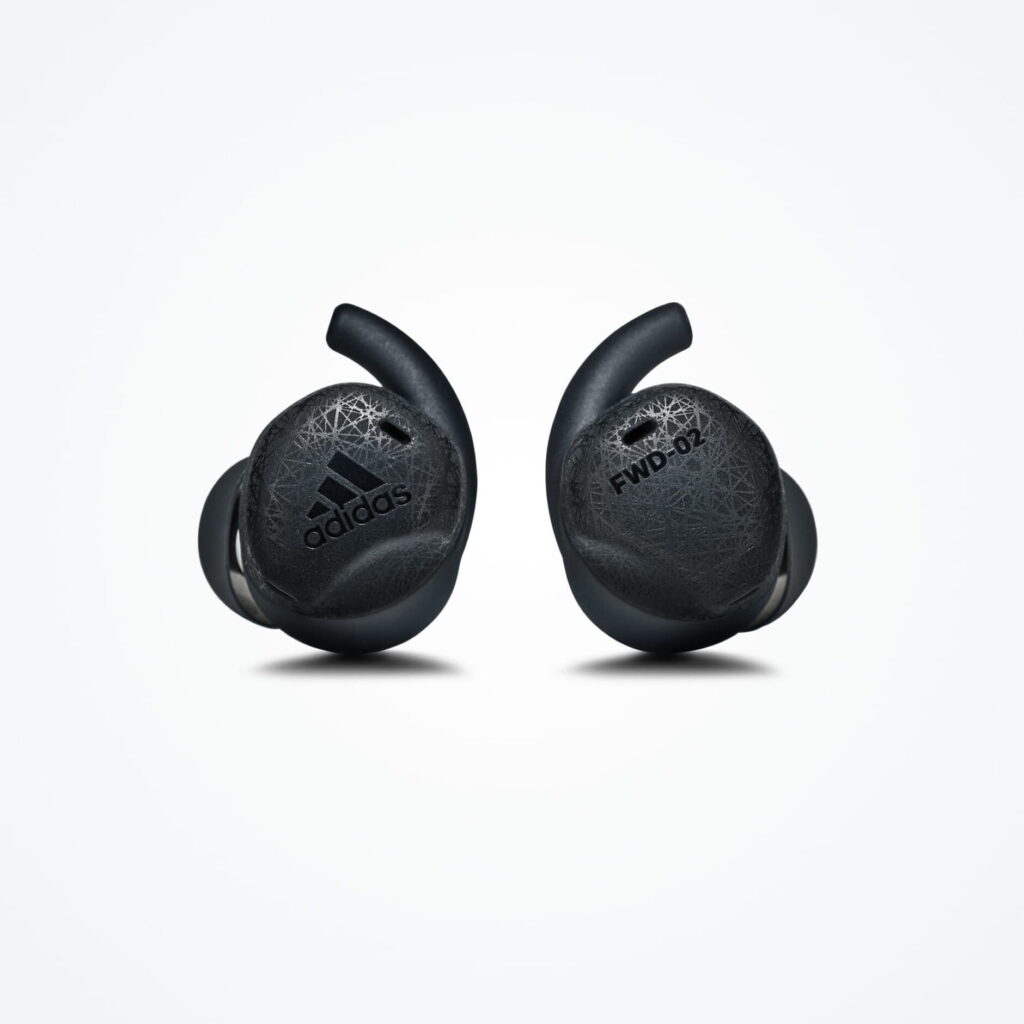 Adidas has chosen a wingtip-style shape for the FWD-02 Sport to ensure that they stay in your ears. The silicone wingtips are replaceable. There are four extra tips included in the package to guarantee they fit properly within your ears.
Adidas also incorporates silicone ear tips to provide a solid sound seal. There are four pairs in total to ensure you get the best fit possible.
In the ears, the buds themselves are rather light. They aren't the lightest buds available at this price, but they aren't very heavy either. The earbuds have a great gripping texture on the outside and are rather modest.
IPX5 water resistance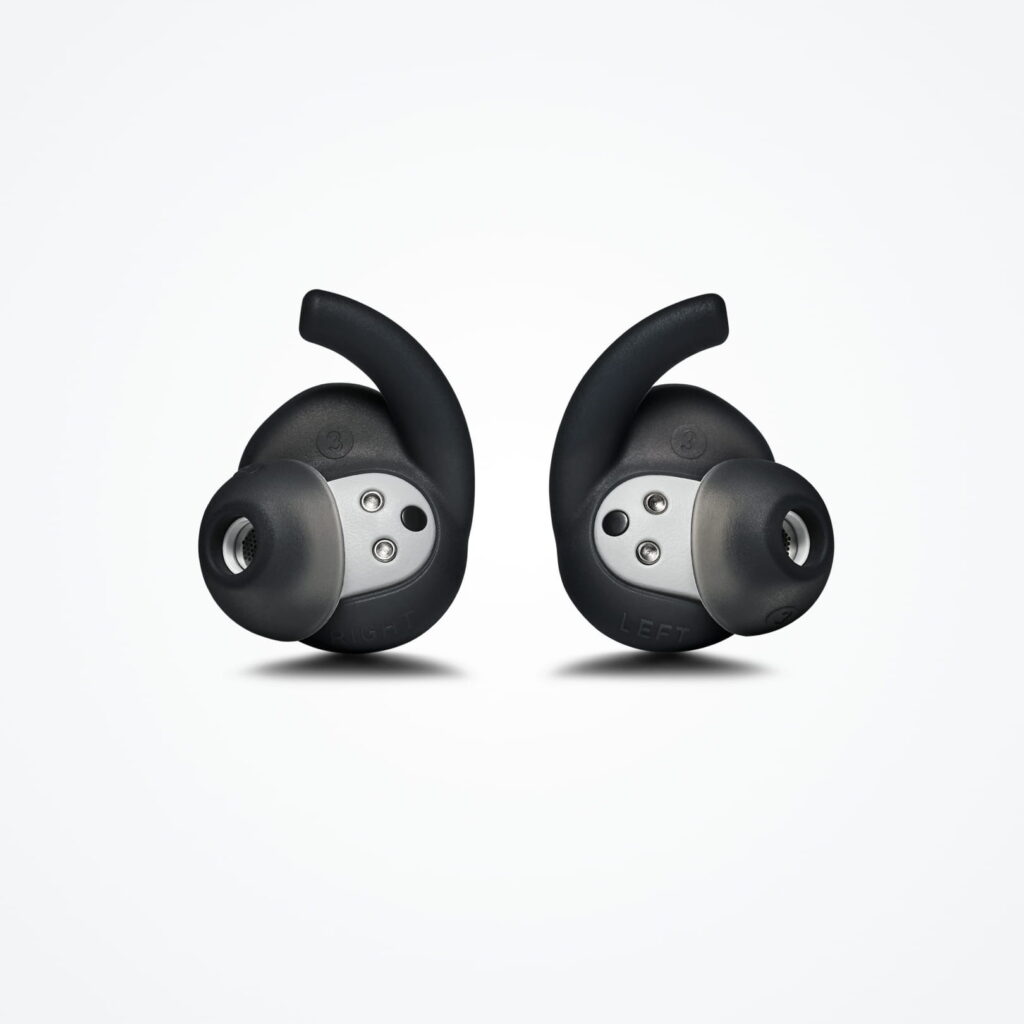 Adidas has given them an IPX5 water-resistance grade. Indicating that they are technically capable of withstanding low jet water spray. This means they can tolerate a little sweat and light rain. Although there are sports buds on the market with higher IP certifications that offer more water and sweat resistance.
Touch controls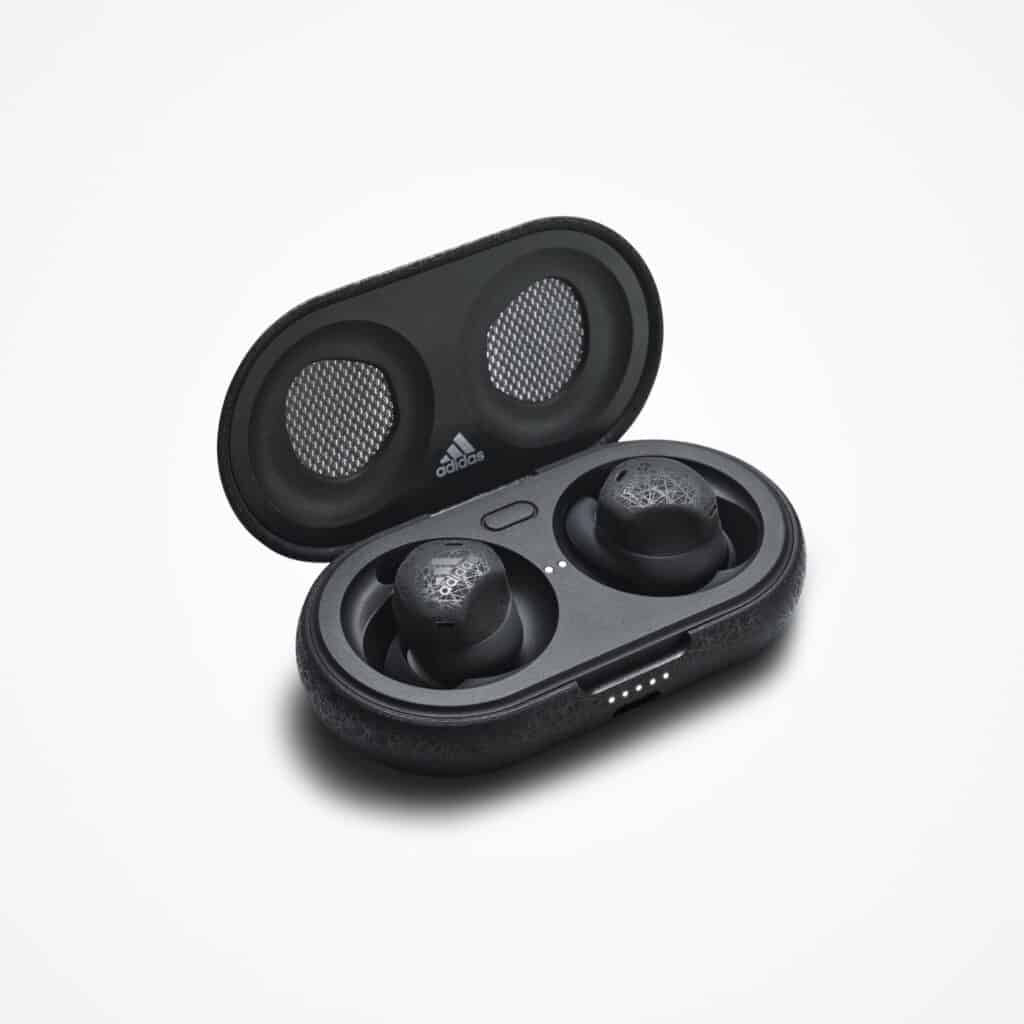 Calls and play/pause audio can be controlled via touch controls on the exterior of the earbuds. With a double-tap skipping track and a triple tap going back a track.
You may disable those touch controls and adjust what they control in the accompanying Adidas headphones app. For example, you can configure them to engage in awareness mode or load the Adidas Running app to hear your progress during runs. There's also an option for controlling Spotify. As well as the ability to control your preferred voice assistant.
It's a mixed bag when it comes to using those controls. When you have the option to pause and single, double, or triple-tap them. They're significantly more suited to exercise. However, if you're on a tight schedule, using the controls consistently might be difficult. As we had to keep pausing since we couldn't get it right the first or second time.
App of Adidas FWD-02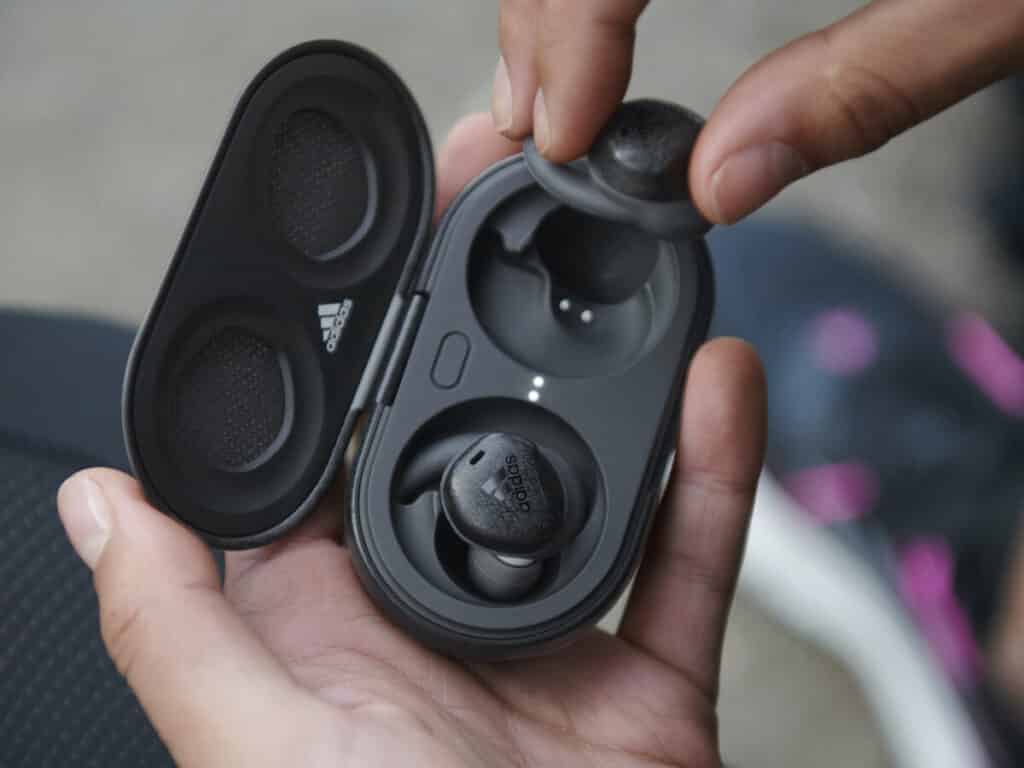 Apart from adjusting touch control settings. The Adidas headphones app for Android and iOS has a few other capabilities. The adjuster may be used to change the sound of your buds. View what music is presently playing on your smartphone. Check the battery state of each bud, and alter the awareness mode function. It's basic software. But it's proven dependable. And it lets you adjust the FWD-02 Sport to your individual needs.
When not in use, the earbuds may be stored in the charging case. This has the same sticky rough feel as the buds but a softer substance on the lid. The lid is magnetically secured in place, which means it can fling off when you open the case.
The buds are securely fixed in, and there's a single button with a couple of LED lights to indicate that they're in pairing mode. A battery status indicator is located directly above the USB-C charging connector on the exterior. The case also has an IPX4 rating. Indicating that it is waterproof. It's wonderful to see that both the buds and the case are waterproof.
The audio performance of Adidas FWD-02
6mm drivers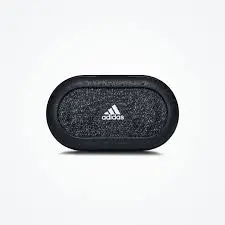 At this price point, sporty true wireless earbuds may deliver superb audio quality. The Jabra Elite 4 Active and JBL Reflect Flow Pro are two examples of comparable price possibilities. On that point, the Adidas FWD-02 Sport can surely compete with its competitors.
The audio performance is powered by 6mm drivers that give a fairly average of 20Hz–20kHz frequency response range. Which is within human hearing range, while some earbuds extend lower for a chest-thumping bass sound.
Powerful audio performance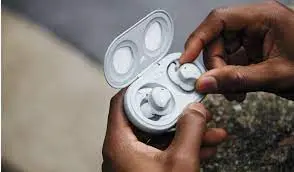 The Adidas FWD-02 earbuds produces a robust, loud, and powerful sound that pushes more towards the bassy end of the spectrum. However, it never seemed excessive. When we pushed up the volume, the sound was good and powerful, albeit the mids sounded a touch buried and the bass a little harsh. This doesn't detract from the overall sound of the buds. But if you're looking for crystal-clear, detailed sound, look another.
Adidas' new in-ear headphones fall directly into the category of earbuds that stress power and bass over a balanced sound profile. But they nevertheless have a good overall sound that works well with uptempo, bass-heavy music. They're also great for listening to podcasts.
Sound quality can have a distant tone.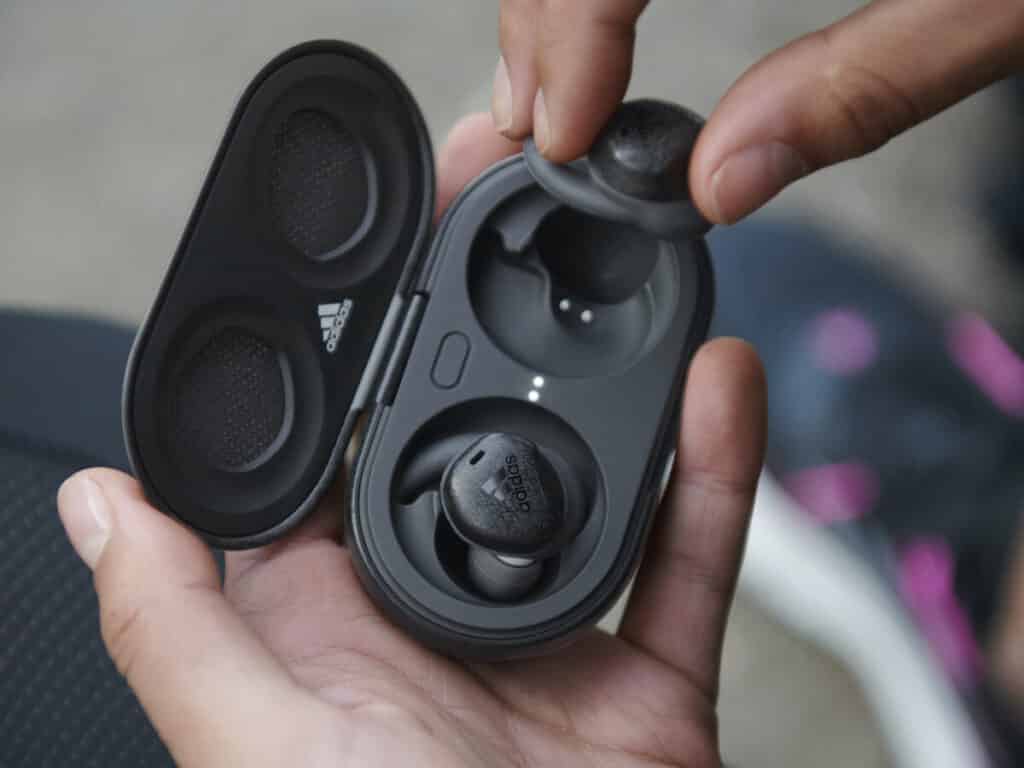 Adidas also allows you to tweak the equalization settings, with customizable preset profiles like rock, pop, hip hop, electronic, and voice boost available. There's also a completely customizable custom mode, and they're all fairly good at generating a sound that's more appropriate for the kind of music you're listening to.
Although there is no active noise cancellation, Adidas does provide an awareness mode that let more of the outside world in. You can change the sound by using the companion app. However. the awareness mode isn't as efficient at letting you hear your surroundings if you're listening to high levels.
Each bud in the FWD-02 Sport has two microphones and control to help you manage phone calls. Overall, the call quality is decent, albeit the buds suffer in windy, gusty weather. If you're using them for things like video calls inside, they're more than capable.
Battery life of Adidas FWD-02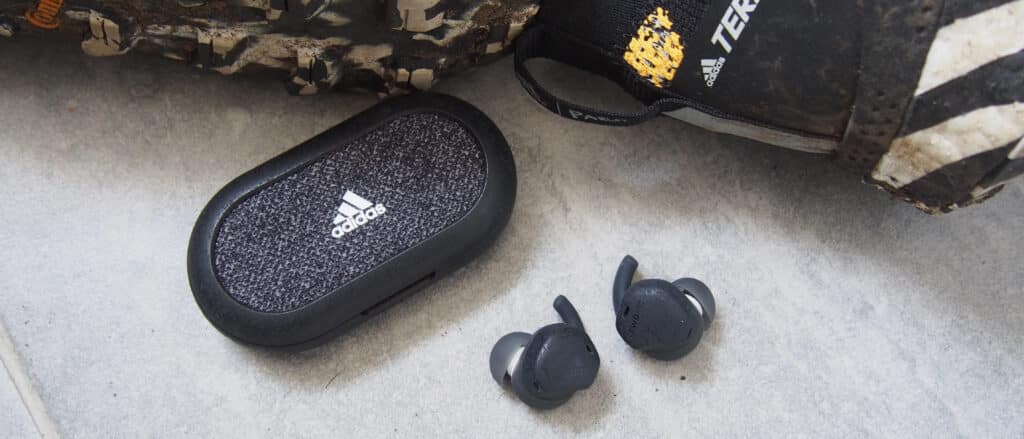 The Adidas FWD-02 earbuds provide six hours of listening time on a single charge and an extra 19 hours with a fully charged case. So that's a total of 25 hours.
An hour of running with the FWD-02 at a very high volume resulted in a 20% reduction in battery life. This indicates that the integrated battery life is closer to five hours.
When compared to Adidas' own (but more expensive) Z.N.E 01 ANC buds. This last 4.5 hours on a single charge, the Z.N.E 01 ANC buds are the better option. This statistic jumps to five hours using the non-ANC version of the Z.N.E 01 buds. The FWD-02 Sport has the longest battery life among Adidas' buds.
At this price, you won't get the best battery life. But it's not horrible. We'd guess it'll last a week of listening, especially with the rapid charge feature. Which offers you an hour of battery life from a 15-minute charge.
Conclusion
Adidas FWD-02 is an amazing earbud you can get. It is very popular over the world not because of the company name and not also by the brand, but because it is famous because of its features. Adidas FWD-02 contains so many features and so much better quality at a small price. It includes about 6 hours of battery life with a single charge. Also, it has powerful audio performance, 6mm drivers, touch controls, and many more. So why waste your precious time. Go and buy now.
Read more!