If you don't drink enough water even though you know all the benefits of drinking water for your body. This habit can cause dire consequences like dehydration, headaches and much more. So if you want someone to remind you to have a glass of water, Hidrate Spark 3 Smart Water Bottle can do this for you. Here is everything you need to know about Hidrate Spark 3 Smart Water Bottle before you decide to buy it.
What is a Hidrate Spark 3 Smart Water Bottle?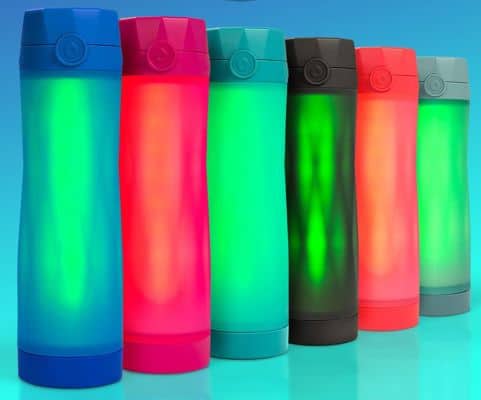 This is basically a smart water bottle that will save you from dehydration and remind you to drink water. It will track your water consumption and start glowing when it's time to drink water. The bottle has six parts: lid, soft-grip body, sensor stick, finger loop, battery, and bottom ring. It connects with a sensor stick that comes with the bottle. It attaches to the screw-on bottom of the bottle and with your phone through a Bluetooth connection. A standard CR2032 button cell battery can be used for this bottle, which can be inserted into the base of the Sensor Stick. Although the bottle uses sensors, it doesn't mean it is heavy to carry. When empty the weight difference from a normal bottle is negligible.
It has a soft-touch body with ridges to let you have a better grip on the bottle. You can even add ice to the bottle for cold water. Although it may cause inaccurate readings with the sensor. The soft grip body minimizes condensation, so you won't find water rings everywhere.
How does the bottle work?
The sensor tracks your water consumption from inside of the bottle and the app tracks the recommended ounces that you should drink in a day. You can even manually adjust the number of ounces required or let the app calculate it based on your body. For the app to calculate, it asks about your age, weight, sex, physical activity, and more. As soon as the bottle senses that you are lagging behind, the sensor stick lights up to signal you to drink water. This glow and app notification will eventually train you to timely drink water.
Features
You get so many cool features with the Hidrate Spark 3. One of them is the button on the lid, if you push it the top half will swing open and will stay open until you close it. You can even attach the finger loop through the metal pin with the hinge behind the lid. The sensor stick works as the brain of the bottle. It detects how much water the bottle is holding and how much water you consume with each drink. It even glows throughout the day to remind you to drink water, and also after you finish a bottle and refill it.
There are three glow styles that you can choose for your bottle through the app. There are three sparkle styles that you can modify your container with also. This is all done through the app. To calibrate the sensor stick through the app, place the empty bottle on a flat surface, fill it up, place it back on a flat surface for 10 seconds, and then empty it. You can recalibrate the bottle, if you ever feel that the measurements are off, in the HidrateSpark app.
Hidrate Spark App
The Hidrate Spark 3 smart water bottle comes with an app that is easy and fun to use. All you need to do is create an account for yourself to get started. Although, you can even Sign-in through your Apple account. You can then connect it to Apple Health or any other fitness app to get a recommended water intake goal based on your information. This will be based on your personal information like age, height, weight, activity levels, and local weather. Although, if you don't want to share your personal information, you can manually set a goal for yourself.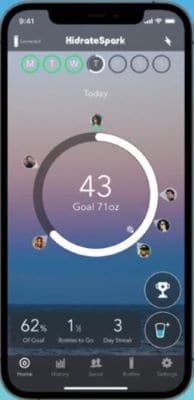 In the home view, you can see your weekly progress at the top, and your daily goal in the centre. It syncs your progress every time you open your bottle and you can see your daily goal progress in percentage, how many more bottles, and your current streak. Also, if you drank water outside your bottle you can add it manually to the app. You can go to the History view, to check your daily or monthly progress. In the day view, you can see your intake by an ounce each time. You can even set reminder notifications with the app. You can customize these notifications to be funny, motivational, or even quotations. Also, the bottle can glow when you reach your goal.
Moreover, you can customize the settings in the app, like water measurement metric, light brightness, reminder timers (at regular intervals regardless of your drinking progress, or only when you are falling behind pace). Also, if your friends are on the same bottle, you can link each other on the app and cheer each other.
What to like about the Hidrate Spark 3?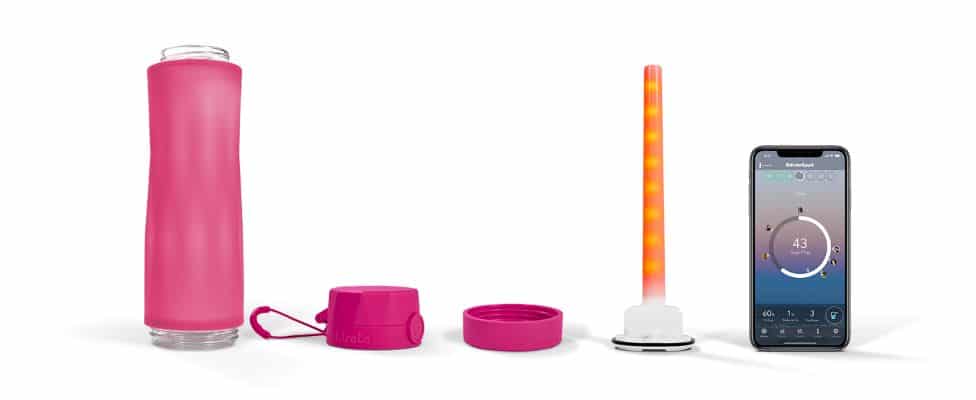 User friendly design
This smart bottle is quite user-friendly. Unlike other heavy metal bottles, it is lightweight. The soft gel body makes it super comfortable to hold and the ridges give a good grip. Moreover, it never leaves you with wet or cold hands due to the condensation droplets. The screw-on cap has an easy-push button that is easy to open and close. Another great thing is the extra-wide mouth of the bottle, which makes it easy to clean and eliminate the musty, mildewy smell other water bottles have even after washing them.
Sensor stick
The smart bottle reminds you to drink water with the help of the sensor stack. It detects your water consumption and reminds you when you lag behind. The glow reminders are bright enough to get your attention (as long as it is near you). Moreover, the light is comfortable for your eyes and doesn't feel overpowering.
Hidrate Spark App
The app is easy and quick to set up and connect, and it syncs all data seamlessly. It tracks your after consumption throughout the day with an ounce-by-ounce breakdown. Even the reminders are quite motivating and can be customized easily. Everything gets synced in Apple Health seamlessly.
What you might not like?
Not rechargable
The bottle can't be recharged as it uses a CR2032 button cell battery, similar to what you get in your regular watches. So you will have to replace it after every few months, which can be somewhat bothersome. Although the app will remind you when the battery is going to run off but there are still chances that you are going to forget to get a new battery.
Needs a flat surface to track consumption
One of the major setbacks is you will place your bottle on a flat surface for it to sense and track your water consumption. Although it is not big of a problem if you are taking your bottle to your office, home, gym or another place. But if you are going camping or hiking and carrying the Hidrate Spark bottle, might be difficult for you to find a flat surface.
Expensive
This regular version of Smart Water Bottle costs $60. And to pay this much for a water bottle is something that you will definitely think twice about. You cannot consider it cheap, but if you need that extra motivation to drink water, you can definitely go for it.
Conclusion
If you are someone who finds it difficult to remember to drink water, then Hidrate Spark 3 Smart water bottle is for you. It is truly a game-changer and once you get it you would want to keep it close to you. It comes with a good capacity and gives you a comfortable grip. Moreover, it is easy to clean and the sensor will keep a track of your water consumption. The featured app is easy to use and set up. It shows you how much water you consumed today and even has the monthly and annual records. This will help you to check your progress. You can even connect with your friends if they own the same bottle and both of you can cheer each other. If you are ready to pay the price then the smart bottle will definitely help you to stay away from dehydration.
If you have any questions you can ask us in the comments section below.
Read More!