Mindomo was first released in 2006 by Expert Software Application (Exswap), a Swiss software company, as a brainstorming and mind mapping software app based on the (now-discontinued) Adobe Flash framework. In 2007, it developed a web app, then in 2008, it produced a native desktop app.
Exswap introduced a real-time collaboration to Mindomo in 2010, and it has since become the software's most distinguishing feature. Mindomo brainstorming native mobile applications for iOS and Android were launched in 2012. Mindomo is quite popular among teachers. It is used in over 1,000 schools across the world to help instructors communicate and work with students more successfully.
If you just want to use the cloud version, you'll need to go to the website and log in using your MindManager or Google credentials. Although you may choose your favorite language and build new maps from a library of more than 50 topics in the areas of basic, business, and education. Use the import feature to access existing maps, or click on maps that other people have shared with you. Also, you may also visit the Expert Software Applications website for more maps. But users can also customize their default task assignment displays and calendar availability.
Interface and Usability of Mindomo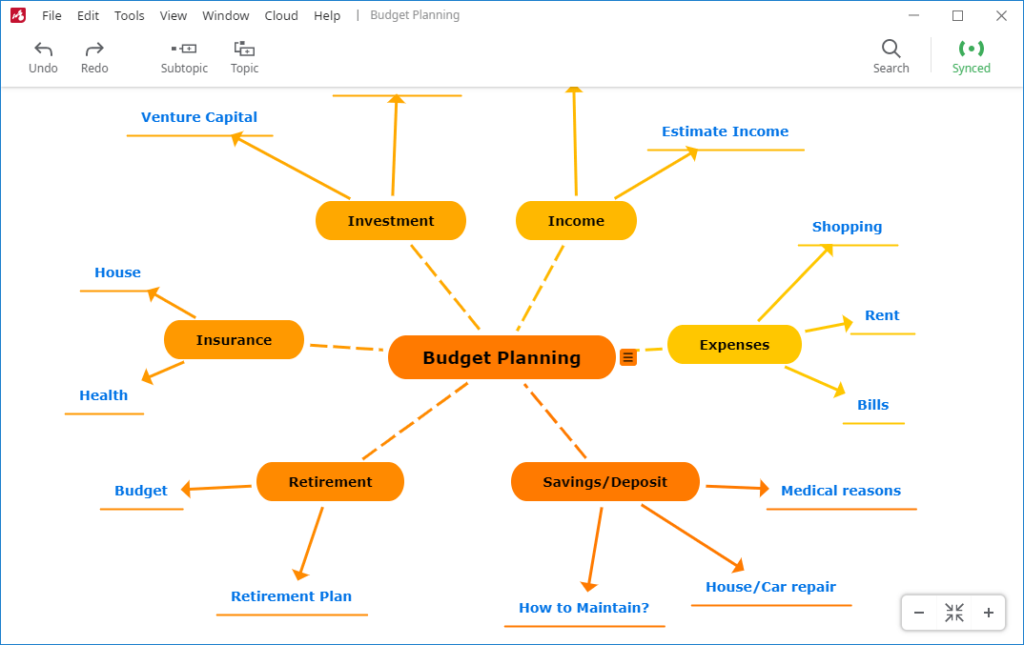 Mindomo Mind mapping software is simple to utilize for users. The first step is to sign up for the free or premium version on the official website. If you select the premium version, you must pay before you may use it. For a subscription, you must enter basic information such as your name and email address. Mindomo provides an activation link to the email address you supplied when you subscribe. You can proceed by clicking on its link.
Mindomo offers a user-friendly, minimalist layout, which gives it a significant advantage over competitors. The map contains some unique features. A replay option allows you to see which users made what changes and when they did so. And when multiple users are online at the same time, a chat function becomes accessible, and there is a bookmarks feature for storing content that you could need in other maps.
There's also the function of a marker, which provides a range of map icons but isn't as helpful as XMind's markers. When you right-click on any vacant area of a map, you'll get download and print choices. You'd think this would be common, but it's actually rather straightforward with Mindom Mind mapping software, and the file format selections are surprisingly diverse.
Comments, a seemingly unassuming symbol, are the application's hidden weapon. This brings up a resizable box where you may leave comments on any region of the map and "like" or "dislike" any leaf. That effectively blends the Bloomfire and Front & Main Honey approach's social brilliance with the mapping capabilities of XMind and Mindjet MindManager 2016 for Windows—the best of both worlds. Expert Software Applications Mindomo stands apart from the competitors because of this one characteristic.
EXSWAP- Expert Software mobile applications
Expert Software Programs Mindomo's mobile applications are simple to use. It's simple to go to your own maps or stuff that was shared with you by other people. Expert Software Applications Mindomo features an online customer discussion forum in addition to regular help menus. General discussion (mainly how-to posts), feature requests, and bug submissions are the three main categories. There are so many fantastic ideas among the feature requests that We wish Expert Software Applications Mindomo will offer a software developer kit (SDK). It's a little disconcerting to see so many posts in the bugs area, but it's always a joy when a software company is so open about its problems.
Plans and pricing of Mindomo software

Mindomo is a freemium m ind mapping software that comes in two versions: "free" and "premium." The free version has a lot of limitations, so you'll need to upgrade to the premium version to get the most out of the software. While the premium version has two categories; "Work & Personal" and "Education." There are several price levels for each category.
Work & Personal is categorized into three parts: "Premium," "Professional," and "Team." Premium costs $5.5 per month for a single user, $13.5 per month for a single user, and $16.5 per month for a minimum of three users.
Education is generally divided into three levels: "Basic," "Teacher," and "Classroom & School." Basic is $3 per month for a single user, Teacher is $4.5 per month per user, and Classroom & School is $9 per month for two teachers and 80 students. You may create as many instructors and students as you like in the Classroom & School levels. If the more the number of teachers and pupils you choose, the greater the discount Mindomo offers. Mindomo offers a 30-day money-back guarantee on all purchases.
Main Features of Mindomo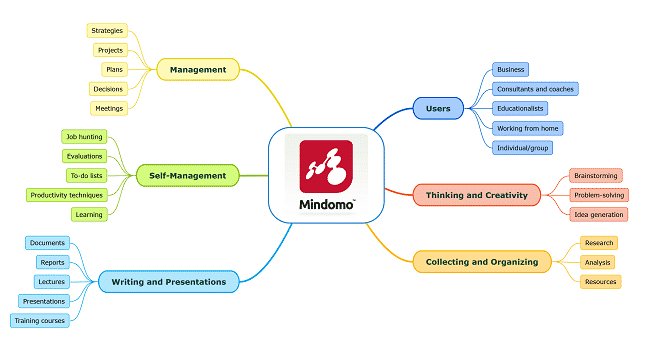 Mindomo's main feature is the building and presenting of mind maps. Mind maps are visual representations of information. It is hierarchical and exhibits relationships between pieces of information. It's a useful method for picturing and communicating your thoughts and ideas shared with others.
Mindomo Mind mapping software has built-in templates for making different types of mind maps and converting them into presentations. These mind maps may be stylized to make them more aesthetically attractive. Within a school or business, the software allows you to create mind maps alone or with your colleagues.
Features of Mindomo brainstorming
Here mindomo allows you to add many objects to create your mind maps as detailed as possible.
Hyperlinks and Attachments on mindomo
You may add hyperlink resources to your mind maps to connect certain areas of your mind maps to external URLs. Also, You may upload files from your computer and attachment done with a mind map.
Notes in mindomo mindmaps
You may add more comprehensive text bodies to the topics in your mind maps by creating notes.
Videos
Mindomo allows you to include videos in your mind maps. You may upload videos from your pc or simply embed them from YouTube and Vimeo.
Web images
You may use the web to search for images and incorporate them into your mind maps.
Import/Export files
Mindomo lets you import files from your computer, Dropbox, Google Drive, or OneDrive accounts and convert them into mind maps.
Import/Export Mind Maps
Mindomo allows you to import mind maps made using other programs. Similarly, Mindomo mind maps may be exported to comparable systems such as MindManager, SimpleMind, and iThoughts.
Presenter mode
You may use the Presenter Mode function to convert any mind map into a slide-by-slide presentation.
Map Search
Mind maps are complex, often congested information units. The map search option allows you to simply search through a mind map to find whatever information you're looking for. You may also arrange your mind maps into folders to simplify them and make information more accessible.
Offline Editing
When utilizing the web-based interface, by Offline Editing you can continue editing your mind maps even if your internet connection is lost, and your modifications will instantly sync when your connection is restored.
Bulk downloads
You may save all of your mind maps in a single ZIP file, it is the Bulk download option.
Native Apps
Mindomo includes desktop and mobile native apps. These apps let you create and edit mind maps offline with ease.
Conclusion
Mindomo is an excellent brainstorming tool for visualizing and sharing your thoughts and ideas in the form of mind maps. It is beneficial to both individuals and professionals, particularly educators who deal with pupils.
Expert Software Applications Mindomo Mind mapping software wins an Editors' Choice award for its product, which combines the strong characteristics of brainstorming software with the social components of knowledge management systems. It is the only product in our collection that addresses both the social and mapping sides of the equation. This is something that the broader category of mind mapping apps should constantly strive for.
Read more