You can improve the security of your home and place of business with Honeywell Home security systems. A Wi-Fi security camera, a smart thermostat, and a water leak detection are just a few of the Honeywell smart devices it can control. Apart from that it also has features and functions such as utilizing wireless sensors, user-friendly keypads, automated system control, and various other techniques. Other cutting-edge components of Honeywell's new security system include the adaptability of Amazon Alexa, intelligent control, and facial recognition. This brand has a lengthy history in the US. It provides home automation products. The Honeywell Home Security System may help owners feel safe and secure in their residences and places of business. Here, we'll discuss some information on Honeywell home security systems.
Overview
Honeywell Smart Home Security Base Station
Home security kits, cameras, and other tools are available from Honeywell, which is widely renowned for its assortment of home technologies and systems. Honeywell offers straightforward security solutions without long-term commitments or ongoing costs for homes seeking peace of mind.
With clever motion detection, delivering smart mobile notifications directly to your smartphone, live look-in video to check in, and two-way audio to converse, the camera base station keeps you linked to your house. Anywhere in the home, you may ask the built-in Amazon Alexa to play your favourite songs. The weather can be checked, questions can be asked, other devices can be controlled, and more, owing to built-in Amazon Alexa.
Simply plug it in, and the Honeywell Home app for iOS or Android will guide you through the remainder of the installation. The in-app approach makes it easy to install yourself and requires no intricate wiring.
Getting notifications and viewing video is quick and simple with the user-friendly app. Geofencing-based control automatically changes between the home and away modes as you enter and exit the residence, so you will not be concerned about forgetting to activate the alarm after you leave.
Pros:
Outstanding Camera available

Functions as a Z-Wave hub

It offers excellent customer service.

Compatible with IFTTT, Google Assistant, and Amazon Alexa gadgets.

Support for cameras indoors and outdoors
Cons:
Incredibly expensive

There are few sensors.

No professional supervision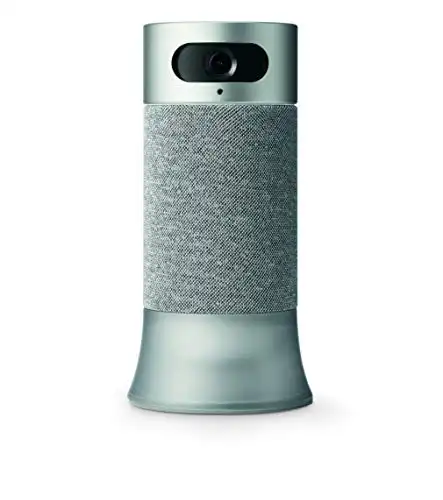 What's in The Box
A camera base station, two access sensors (such as a door and window sensor), a key fob remote, and a Quick-Start guide are all included with the Honeywell Home Security System.
Some Notable Features of the Honeywell
Base station
Light-up base
No professional monitoring
Mobile app
Camera
Cloud storage
Accessories in the starter kit
How Honeywell Smart Home Security Works
The Honeywell Smart Home Security System contains a camera that can record 1080p HD video and monitors the specified area. Additionally, this system offers an app that lets you control features from your smart home or smartphone, such as pre-programmed facial recognition. You may speak to any household item in real-time. By adding extra cameras, you can access everything from the app.
There is no need for wiring during installation. A key fob, two entry sensors, and a camera base station are further add-ons. Both IFTTT and Google Assistant are compatible with this configuration. Additionally, its night vision camera works well. When a visitor, such as a member of the family or even a malicious stranger, enters your home, this app will push notifications to your phone. A security camera and the Amazon Alexa speech assistant are other features of the Honeywell Base station. To handle voice commands, audio playback, and controlling smart home devices, it also makes use of an Echo smart speaker. There is, however, no potential for professional monitoring.
Advanced Facial Recognition
Face recognition is another feature of Honeywell's intelligent home security system. It is free to use. Because it only stores two faces and tracks just two faces for two hours each day, the experience is disappointing. The Honeywell facial recognition technology is a fantastic idea. You are obliged to worry when your partner, kids, and parents get home because you pre-assume everything. The Honeywell base station and various additional devices might be managed by a schedule, location-based geofencing, or user-customizable event and scene triggers. To test sound and video on the system, utilize the app.
A lower-level LED on the base station will beat green more frequently as the system is deployed. When an inside door is opened, the base will switch to white light.
Camera
The camera on it can record 1080p video. When motion is detected, a 30-second video clip and live video streaming are also captured. It allows users to construct special zones that may be used to keep an eye on a certain entrance, window, or busy area. Your Wi-Fi network may become less responsive if you keep making meaningless recordings. It uses direct recording to microSD card storage. These films will also be kept in the cloud for 24 hours, so you can access them from anywhere using the mobile app.
Live Camera Feed
Even though it loads more slowly than the Nest security cameras, the live video stream is a fantastic choice while you are away from home. Streaming typically takes 3 to 5 seconds over mobile data.
Pet Detection
A pet-detection sensor intended to capture humans moving while oblivious to small creatures quietly scurrying over the ground. It can have two faces on it. Your cat will not be included if your pet weighs less than 100 pounds in the registration. Small animals or pets may move around freely in the room thanks to a pet recognition sensor, preventing unnecessary alerts. The motion sensor will also detect on other people's simultaneous movement in the same space.
Z-Wave Hub
You can control the temperature in your home with a smartphone and a Z-Wave hub. A Z-Wave hub may be used to connect a variety of additional smart home and security devices, such as door sensors and motion detectors. Your device may be controlled via an app on your phone.
85-Decibel Alarm
In an emergency, this life-saving tool can significantly alter the circumstances. In the event of a fire, it reacts more quickly. This smoke detector employs photoelectric technology, therefore the sensor has a photo sensor as well as a little amount of light. There is also an 85-decibel alarm present. The LED light will pulse green while the system is alerting. Additionally, when the door is opened, the LED switch changes into a white light source. Anyone close will be startled by the 85-decibel alert, but bystanders won't be able to hear it.
App
With the help of the Honeywell Home Security app, you can control your home's comfort and always be aware of what is happening there. The Honeywell Home Security app is compatible with the most recent versions of iOS and Android. The Honeywell Home Security app offers various functions, including arming controls, geofencing, two-way audio, and facial recognition. It also works with third-party smart home systems like IFTTT, Google Assistant, and Amazon Alexa.
This programme is simple and easy to use and guides you through each fundamental step. The temperature controls in your house can be changed. The Honeywell Home app is quite adaptable. If there is an emergency, this app will always let you know about it. With the help of an inside security camera, you can keep track of everything that goes on inside your house and respond promptly if an unforeseen event happens while you are away.
Installation
The Honeywell Home app is easy to download and set up on your smartphone or tablet. The Honeywell Home mobile app includes a detailed user guide. You must sign in or log into a Honeywell Home account before you can plug in the Camera Base Station. To configure your settings and attach sensors, connect it to Wi-Fi before connecting it with the base station.
Price
There are no ongoing costs, and the starter bundle costs about $170 on Amazon. However, you may enhance your cloud storage by signing up as a Honeywell Home Member.
Key Fob and Second Sensor
The key fob can be used to control your home security system with the touch of a button without utilizing the Honeywell Home Security app. Your systems are entirely under your control. The device is suitable for friends, family, children, and home visitors. It contains buttons for the home, away, and night settings in addition to a power button. The device's operation is audible, and the LED feedback is visible. Notifications also let you know when the battery needs to be replaced. The 2.8 by 1.5 by 0.3-inch key fob has buttons for Home, Away, Night (only Access sensors are armed), and System On/Off. The top-tier Super Smart Home Security system comes with a second entrance sensor, water leak and freeze detectors, a C1 security camera, and a T5 intelligent thermostat.
Memberships
Honeywell's three security packages now cost much less than when they were first released in 2018. The three options are Free Membership, Standard Monthly Membership, and Premium Monthly Membership.
The Free Membership plan supports one camera and provides access to up to 50 videos and 24 hours of video storage.
For a monthly membership, the standard monthly cost is $4.99. Additionally, it provides support for one camera, thirty days of cloud storage, the ability to watch up to 1,500 footage, and a five per cent discount on products from Honeywell Home and Honeywell Lyric.
The Premium Monthly Membership is $14.99 each month. In addition, it supports an infinite number of cameras, 60 days of cloud video storage, 3000 film viewing options, and a 15% discount on Honeywell Lyric products.
Utilizing a variety of gadgets you may include in your bundle, you can create the system you need.
Conclusion
Honeywell Smart Home Security is a fantastic do-it-yourself security system. It is an approachable home security system that would be ideal for anyone looking to strengthen the first line of defence in their homes. Moreover, Honeywell's intelligent indoor regulator. The centrepiece of the bundles is the top-notch base station, which works with Alexa and requires minimal installation. It looks awkward and has fewer features than Abode's iota base station. The main distinction is that most third-party smart home devices are incompatible with Honeywell.
READ MORE!