The Onyx Boox Nova Air C e-book is a new version of the black-and-white Nova Air of last year. 
While the Nova Air proved to be a capable device, thanks to the versatility that comes with running Android with Google Play integration.
The Nova Air C goes even further by providing a very similar experience but with the added flexibility of a color LCD overlay over the E Ink display.
There are just two alternatives. First and foremost, the Nova Air C is more costly than the Nova Air. Second, due to light loss through the LCD layer, the display of the newer model is slightly dimmer and greyer.
However, the tablet makes up for it with the additional information it can deliver thanks to the switch to color. Grayscale only goes so far, and adding color enriches visuals, charts, tables, notes, and anything else you can think of. Not to mention the advantages that color can provide for websites and comic books.
The Nova Air C is versatile enough to serve as an e-reader or digital note-taker while also serving as a basic Android tablet. Even its rapid E Ink refresh rates come with significant smearing, failing to keep up with even the very basic tablets, so you won't want to make this your primary entertainment device. However, in a pinch, it can do just about anything an Android tablet can. You can use a Bluetooth keyboard to type papers or notes in Google Docs while watching a YouTube video.
The Onyx Boox Nova Air C is just as definitely worth as the Nova Air before it for its adaptability and ease, as well as giving a fantastic experience at a reasonable price.
Price & Availability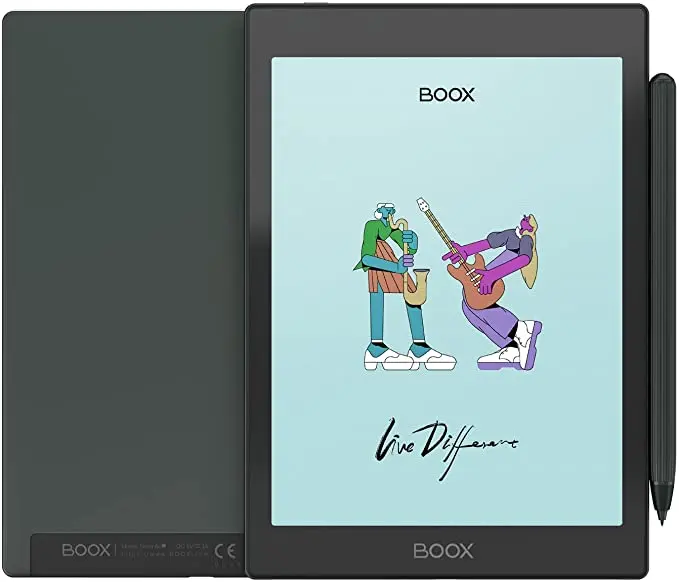 The Onyx Boox Nova Air C e-book was released on April 29 and is currently available for $419 (about £415), plus shipping and VAT for orders outside of Europe.
Design and Display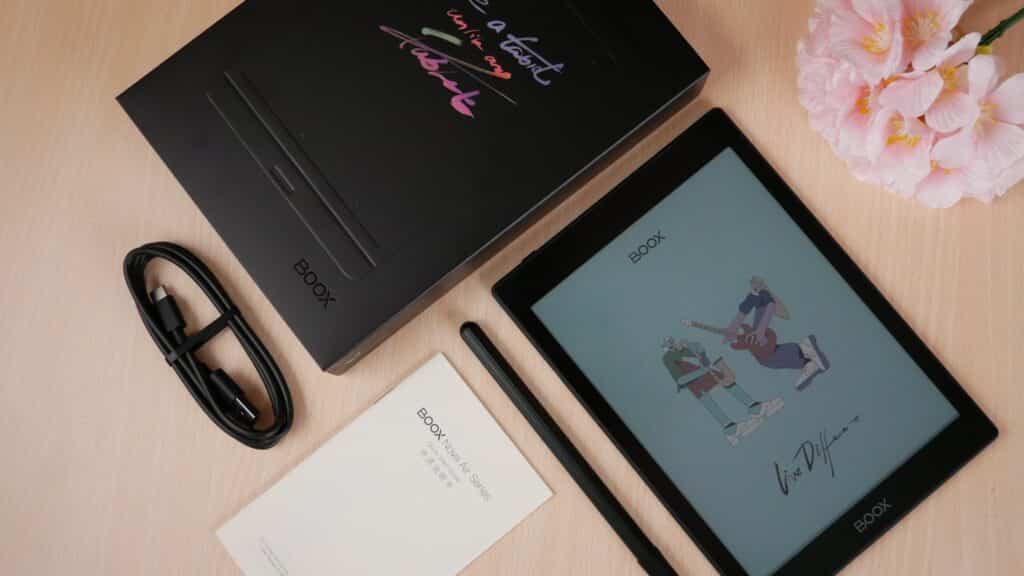 The Onyx Boox Nova Air C e-book is almost identical to the previous model. The Nova Air C sports a matte black surface instead of the light silver finish of the Nova Air. The dimensions are otherwise unchanged.
Regardless, the lack of change has left us with a good e-reader. The Nova Air C boasts slim bezels for an e-reader, allowing it to fit a 7.8-inch E Ink Kaleido Plus display inside a frame the size of a regular hardcover book. It is, however, slimmer than a paperback novella and, at 245g, not much heavier than a standard smartphone.
However, the frame's color change could be more than just cosmetic. The addition of a color LCD layer here, like with the Onyx Boox Nova 3 Color, serves as a light block for the E Ink display beneath. The Nova Air C's screen is significantly darker than the standard Nova Air.
Reading Books & Articles
In dim lighting, the dimmer display is more difficult to utilize for reading books and articles. Fortunately, the Nova Air C has a two-tone backlighting technology that can give different color temperatures and adequate brightness as needed.
The addition of a color layer to the Nova Air C significantly expands the e-reader's capabilities. While Onyx has done an admirable job of making grayscale work in its black-and-white tablets, the data that color can help express on the Nova Air C makes it significantly more helpful. With color as an option, documents, note-taking, study materials, and other visual information become that much more comprehensive.
Display Colours
However, the color reproduction here isn't even close to that of a cheap tablet's LCD. For starters, the color layer has barely a third of the resolution of E Ink, with only 100ppi compared to the 300ppi of the 1,872 x 1,404 E Ink layer. The Colour isn't vivid, and the depth is extremely limited, with only 4,096 color hues compared to 16.7 million on a standard LCD.
The tablet's rendition of that color is similarly inadequate, with shadow details, clean edges, and accurate color all being sacrificed. There are controls for modifying the picture, and we discovered that greatly increasing the brightness with a degree of "vividness enhancement" got us close to what we'd see on a typical computer display for online browsing but at the expense of clarity in thin, black lines – such as small text.
This can be recovered by increasing the dark enhancement. However, shady parts in photos will become completely black. This isn't to imply the image is always bad; it just takes a little fiddling to get the right setting for the job. Different settings will assist in reading a book, flipping over a comic, and browsing a web page.
Adaptive Refresh Rate
In terms of refresh rate, display technology has its restrictions. This can be changed. Choose a slower refresh for a sharper image, or speed it up to watch video content or navigate documents and web pages smoothly.
However, the faster the screen moves, the more likely there is to be a latent after-image left on the screen. The Nova Air C becomes a last resort for streaming video or playing games. It's a tiny distraction that didn't impede us from reading web articles and the like.
Stylus
The pen, on the other hand, is unaffected by the refresh rate, writing on the display very quickly for approved apps, allowing for an excellent digital note-taking alternative. While some firms charge a significant premium for their styluses, Onyx provides one with their tablet.
All of this power is protected by an Asahi glass panel layer that feels excellent in the hands and on the stylus. The Wacom-powered pen has the same ribbed diameter and one flat side that magnetically attaches to several points on the tablet like the one that came with the Note Air and Nova Air. However, the magnet is still too mild to keep it in place.
Specs & Performance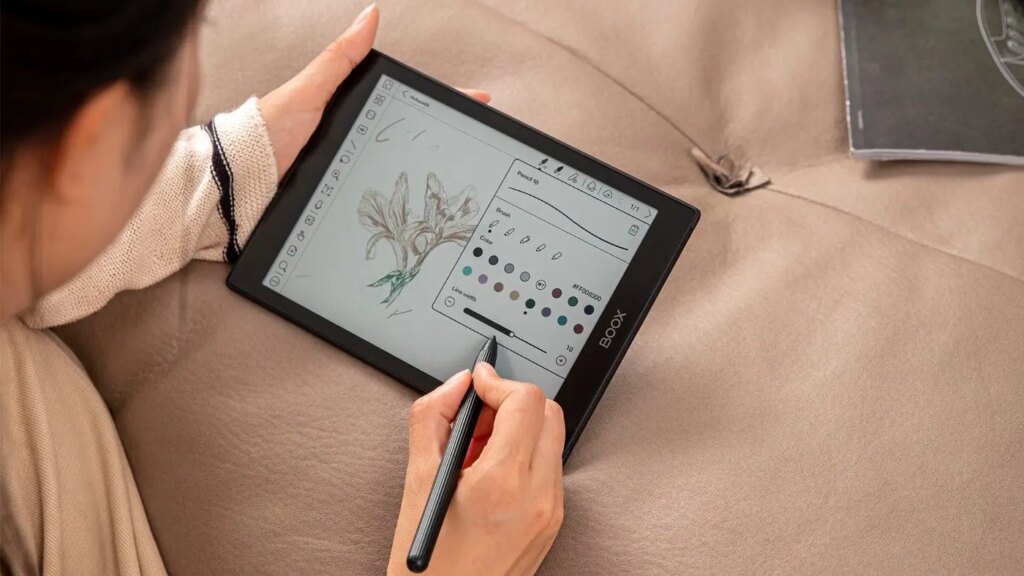 The Nova Air C, like the tablets before it, distinguishes itself from other e-readers in this area. The Nova Air C seems to be an e-reader from the exterior. However, it is an Android tablet on the inside.
It's powered by an eight-core CPU, 3GB of RAM, and 32GB of storage, and runs Android 11 with a heavily modified UI. It even has Bluetooth 5.0 and a dual-band Wi-Fi 5 connection, which is appropriate for an Android tablet.
The chip inside isn't particularly powerful. It's quick enough to switch between lightweight programs, and it handled online browsing in Chrome with ease. Even though the images weren't perfect, we were able to load videos from YouTube and Crunchyroll into the browser and see them play back seamlessly.
While the tablet doesn't come with Google Play and all of the apps that come with it out of the box, enabling Google Play is a simple procedure. Because not all applications are made to support such a color-limited device, your experience with them may vary; yet, even in apps where it isn't ideal, it can frequently make due.
Documentation Work
The Nova Air C is an excellent device for document-oriented work, and it may also assist in more visual-studying circumstances, such as perusing Memrise or Khan Academy. These study tools are substantially more beneficial because of the added color provided on the Nova Air.
Readers will benefit greatly from having access to the app store. 
While some readers are limited in terms of where you can purchase books or the file format they're in, the Onyx Boox Nova Air C has few restrictions.
File Types & App Support
It not only has a reader app that supports a wide range of file types, but you can also install a variety of other apps to read from. Install Comixology or Crunchyroll for comics; download the Kindle app to access Amazon's whole ebook library; or use the software that your public library uses, such as Overdrive or Hoopla.
You'll be able to start downloading ebooks directly to your smartphone in no time — there are no strange hurdles to jump through like with a Kindle.
When paired with a keyboard through Bluetooth, the Nova Air C may be used as a portable laptop replacement. For an e-reader, the ability to switch from handwritten to typed notes, or even document editing in Google Docs or other note-taking programs, is quite useful.
Battery life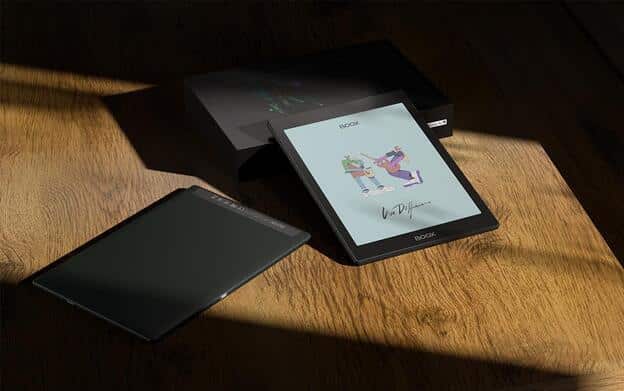 On Nova Air C, performance may not be the main attraction. However, battery life is. Despite the tablet's 2,000mAh battery, which is charged through USB-C, the E Ink display and LCD layer consume very little power.
The backlight on a typical tablet presenting a static image takes a lot of electricity, whereas the Nova Air C uses almost none. This is how the display may keep showing color information even after the tablet is turned off.
In standby mode, the Nova Air C may last up to four weeks, but you can get even more if you let the tablet shut itself off after long periods of inactivity.
How far the tablet lasts in practical use is greatly determined by how it is utilized. 
If you read ebooks with the Wi-Fi turned off and the backlights turned off, you'll get ridiculously long battery life. If you try to watch cartoons for hours on end with the backlit on, your battery life will be closer to that of a regular tablet.
Simply said, the Nova Air C will last as long as a regular tablet at worst; however, when used as an e-reader, it can survive many times longer. And, if you like to use your tablet outside – which would normally necessitate a much brighter screen and more battery life for a tablet or laptop – you'll be able to use less battery because the screen is smaller.
Conclusion
Although E Ink has flaws, the Nova Air C does an excellent job at allowing you to overlook them. This is a powerful e-reader. Also, it's a strong Android tablet, strengthened by the addition of color to the display. The Nova Air C stands out in situations when battery life is more important than screen quality.
There's still the matter of pricing, where the Kindle still has a significant advantage. 
The Onyx Boox Nova Air C  e-book costs $420, which is comparable to the cost of a mid-range Android tablet. It may be able to do fewer things than a tablet. However, it can certainly do more than some rival devices.
To put it another way, you're getting your money's worth with one of the greatest color e-readers on the market, at least till the next Onyx device with the newest E Ink Kaleido 3 technology.
Read More: