Chime was introduced in 2013 to offer a contemporary substitute that works better for regular people than traditional banks. Chime App is not an ordinary bank but an online banking option that you can use to simplify your accounting. It is a financial technology business that provides banking services via its financial partners.
It might be challenging to choose the ideal solution for your needs, given the range of account alternatives offered by several financial institutions with different bells and whistles. Chime makes things straightforward by offering one checking Account, one savings account, and one secured credit card, all of which are integrated into an enticing smartphone app.
The Chime Spending Account, Chime Credit Builder Account, or even the Chime Savings Account can still be opened. Chime also provides the Chime card to make spending and withdrawals as straightforward as possible.
Chime Accounts
Checking and savings accounts are available through Chime without monthly or international transaction fees. Additionally, you may use a free credit-building tool to start creating Credit from scratch.
The downside of using Chime for banking is that everything is done online. The chime will only be the most outstanding choice if you sometimes want to visit a bank.
Additionally, choosing a larger bank may be the wiser course of action if you're seeking a financial institution that offers a wide range of goods, such as rewards, credit cards, or loans.
Chime Checking Accounts
The Chime® Checking Account doesn't have any fees. Checking accounts, the company's principal offering, allows you to do routine banking tasks like depositing checks, paying bills, and withdrawing money.
When you sign up for Chime's SpotMe service, you may use your debit card to make transactions without paying a charge to overspend your Account by up to $200.
To be eligible for this service, a single qualified direct deposit of $200 or more must be made each month. Your SpotMe allowance may be increased by up to $200 at Chime's discretion.
Depending on your account activity, the amount and frequency of your direct deposits, your spending patterns, and other aspects.
No credit check is required to start an account with Chime and get a Chime debit card. You may use your debit card anyplace Visa is accepted.
The Chime Checking Account features a lot of excellent benefits, practical limitations, and affordable costs overall.
However, paying at the petrol pump at a gas station is one location where you won't want to utilize it.
In this scenario, you could discover that the petrol station places a $1256 hold on your cash.
Your cash will eventually be released if you don't purchase that much petrol, but it may take a few hours or even days. To be avoided.
Features of Chime App Checking accounts
Controls on transactions:
When traveling overseas for security, you may use the app to allow or disable foreign purchases and switch your on and off your card. In case your card is lost or stolen, stop all transactions.
Uncharged overdrafts:
Chime SpotMe, an optional overdraft solution that covers overdrafts up to $20, is available to qualifying account holders who receive a minimum of a $200 direct deposit into their Chime App account each month.
Credit checking is not necessary:
If a bad credit history prevents you from being approved for other bank accounts, the Chime Checking Account application doesn't entail a check of your prior banking or credit history.
Paychecks arrive two days quicker:
Direct deposit allows for up to two days' early payment. You may get paid up to two days earlier if you set up direct deposit of your paychecks into your Chime account.
Round-up of savings
Features for automated savings. Each transaction on your Chime app bank account may be grouped, and the change saved using the round-up tool.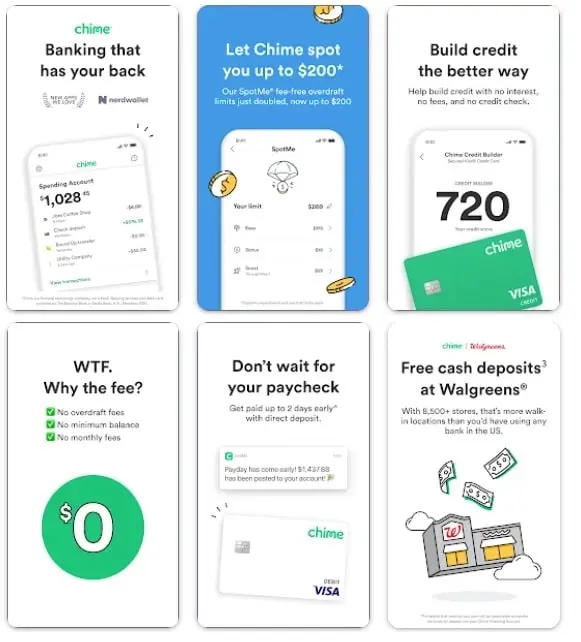 Chime High-Yield Savings Account
You will be prompted to establish a Chime Savings Account when you open a Chime Spending Account. Only clients with an open Spending Account can open this Account.
You won't receive a card with this account type, but your deposit will increase because of a higher interest rate. You may also pay your Spending account if you need to spend your money.
The Chime app also provides savings accounts that you may establish to store money for goals or emergencies in addition to your checking accounts.
Currently, Chime Savings Accounts provide an APY of 1.00%, much higher than the national average APY for savings accounts of 0.08%.
No ongoing monthly charges
No minimum balance is necessary.
There is no maximum amount of interest you may get.
Chime does not demand a minimum deposit to start an account.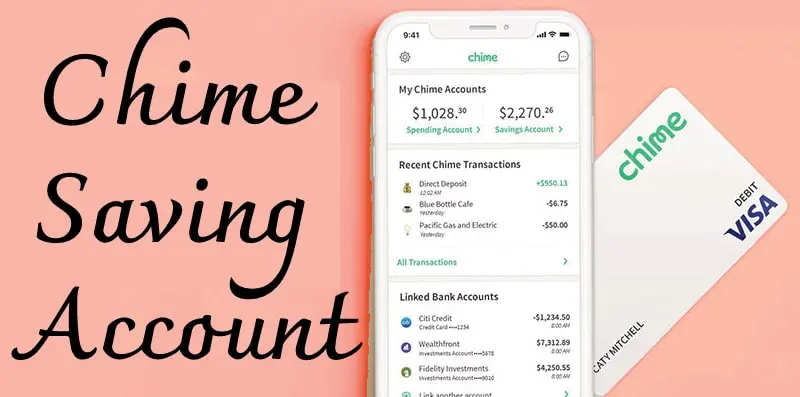 Chime credit builder accounts
Another option provided by Chime App is a Credit Builder Account. You will receive a protected credit card with this Account, which you may fund with money from your other Chime accounts.
With no annual fees or interest rates, Chime's Credit Builder Account functions similarly to a secured credit card.
Additionally, there is no background check, so you can still be eligible even if you have a little credit history or a bad credit history.
After that, you'll be able to make purchases up to the amount you've loaded onto your card while establishing Credit. This helps you in improving your credit score if you've previously had credit facilities declined for future demands.
You may choose how much Credit to provide yourself because there is no predefined spending or credit limit.
To be eligible to apply for the Secured Chime Credit Builder Visa Credit Card, you must have Chime checking and qualifying direct deposits totaling at least $200.
If you qualify for this service, you can overdraw your Chime account.
However, if your Account is underfunded for 15 days or longer, Chime may compensate you by transferring money from one of your other Chime accounts to make up the difference.
This is how Chime credit builder accounts work.
Through your Chime Checking Account, register for a Credit Builder Account.
Transfer funds to your Credit making Account, which serves as your credit line, from your Chime Regular Account.
Anywhere Visa is accepted, use your Credit Builder Card.
Your credit card bill will be paid automatically using your Credit Builder account funds.
To establish a good credit history, payments on the Account are reported to Experian, TransUnion, and Equifax by all three credit bureaus.
Anywhere Access
When you make a purchase, the Chime app notifies you of the transaction and delivers daily account balance updates. You may stop transactions from the Chime app without calling customer support if you lose your card.
Through the app, you may also decide to turn off foreign transactions. Use mobile deposit on the Chime app to deposit a check into your Chime Regular Account.
You can stop transactions using the Chime app if you misplace your debit card for Chime. Debit card replacements are free and may be ordered using the app.
There are iPhone and Android versions of the Chime app. To proceed, you must provide your email address, residential address, and Social Security number.
According to Chime, it won't affect your Credit and merely needs your social security number to validate your information.
Chime App for Smartphone
The Chime mobile app now has a respectable 4.6/5 rating on Google Play12 and an even more outstanding 4.8/5 rating than Apple13.
You can view your account balance, control your card, and track spending inside the app. This is the easiest and fees-less method to handle your money if you create a Chime account.
Customer Support
From 3 am to 11 pm CST, Monday through Sunday, Chime customer service is open.
Chime attempts to address your query when you call by guiding you through some automated customer support alternatives before connecting you to a live agent.
However, by pressing 0, you may instantly connect with an agent prepared to answer your account-related inquiries. Chime is a digital bank.
Thus, there are only physical locations where you may go for Chime assistance. But it also means you won't have to stand in line or take time out to visit a branch office.
Instead, you may reach the support staff via email or Chime. Chime Staff is available around the clock. Additionally, phone help is offered from 6 am to 10 pm (CST) on weekdays and from 7 am to 9 pm on weekends.
Pros
Automated saving tools that help you develop better money management practices.
Create Credit without a credit check or fees.
Advance your direct deposit by up to two days.
Availability of more than 60,000 ATMs.
Cons
There is no option for in-person assistance; all help is provided over the phone and online.
Not all services are free; you may be charged for cash deposits or ATM withdrawals.
Some services are subject to restrictions, such as spending caps on withdrawals and purchases.
Certain services, such as fee-free overdrafts, are only accessible to qualified consumers.
There are no choices for multi-currency accounts, and you can pay more to use your card abroad than in the US.
Is Chime Legal?
If you're new to online banking, it makes sense to question whether Chime is a trustworthy bank and, if so, it is a decent bank.
In the conventional sense, Chime is not a bank. It is a company that provides banking services using financial technology. Start there, please.
Your money is as secure at Chime as it would be in any traditional bank since it is still guaranteed by FDIC insurance, which makes it clear that the company is genuine.
Are there any Fees at Chime?
Downloading the Chime app is free. Chime doesn't impose monthly, overdraft, or foreign transaction fees for its Regular and savings accounts. Additionally, there are no yearly fees or interest rates with a Credit Builder Account, Chime's take on a secured card.
What is a Chime card?
You will receive a connected Visa debit card when you establish a Chime Spending Account, making it simple to access your money.
The Credit Builder Account also includes a Chime card. But this is a bit unique. People who don't have good credit can use this Chime card to get a secured credit card, which they can utilize to enhance their future access to Credit and loans.
Is Chime a reliable platform?
Chime provides various online account solutions that may be customized to each customer's needs.
It could be for you if you feel at ease handling your finances online and receiving help through your smartphone or online banking service.
It's important to remember that Chime only permits users to store US dollars and that overseas ATM withdrawals may incur higher costs.
Conclusion
Chime is not your most superb choice if you seek a comprehensive range of banking services. However, Chime covers the essentials effectively if you're beginning your financial adventure and want a user-friendly collection of financial tools made possible by multifunctional software.
Customers who wish to increase their emergency funds or prepare for another aim find its automatic savings solutions very appealing. For those who like to handle their finances over the phone and online, Chime provides a few clever account choices.
Although there are fewer account options available with Chime than at your local bank or credit union, the costs are likely lower. Chime differs from many banks and other financial organizations, among other things, in how it screens consumers.
If you need the finest Credit or are still improving your credit history, this may make it simpler for you to open an account with Chime.
If you need to utilize your Account to make more significant purchases or cash deposits (fees and limitations may apply), there may be better options than Chime.
It is not ideal if you want to travel or purchase online with foreign merchants. Check out the alternatives below to see if you can shop around and discover a better product.
Read More:
Chime App -Online Account with zero charges!