In order to improve the overall quality and enjoyment of our audio-visual experiences, speakers are essential. Powerhouse brand Sonos is recognized for its outstanding and great speakers that produce amazing sound quality. Sonos speakers provide satisfaction to every audiophile's demands, from powerful portable alternatives to compact models with realistic surround audio. It can be challenging to choose the best Sonos speaker among the bunch of great Sonos speakers that will turn your living area into a symphony of sound. However, we have mentioned some of the best Sonos speakers which you should consider purchasing!
Sonos Move
Amazon's Choice
Sonos Move Battery-Powered Smart Speaker
Sonos Move speaker is available for $388 with the product dimensions of 6.29 x 9.44 x 4.96 inches, weighing 6.61 pounds. Built-in microphones, USB ports, Bass Boost, and Subwoofer are all characteristics of this portable speaker. In your house, you can operate Sonos with your voice, use Apple AirPlay 2, and broadcast over Bluetooth if WiFi isn't available. Connect Move to the remaining components of your home's Sonos system and stream through WiFi.
When you are offline and away from home, you can also switch to Bluetooth. At moderate volumes, you can receive up to 11 hours of nonstop playback. The speaker enables simple charging because all you need to do to get started is place the speaker on the supplied wireless charging station. Shadow Black, Lunar white, and other colors make up the speaker's color palette.
Excellent for outdoor use and easily handled:
Since it has a built-in handle and is cordless, moving it from one room to another or wherever you want to take it is simple. Even in the open air, you can receive excellent sound. When using a Sonos mobile speaker, you'll experience an incredibly wide soundstage with rich bass and crisp highs wherever you want to listen.
Water resistance and auto-Trueplay tuning
A wide soundstage, unexpectedly deep bass, and automatic Trueplay tuning that adjusts the sound to your location and what you are listening to are all possible. Move is resistant to humidity, snow, rain, dust, salt spray, UV radiation, high heat, and cold thanks to its IP56 classification. The move can easily withstand severe temperatures and unintentional drops thanks to its shock-absorbent construction.
Pros:
Accurate and loudspeakers

Portable speaker with reliable control on the Sonos app
Cons:
Battery life needs to be improved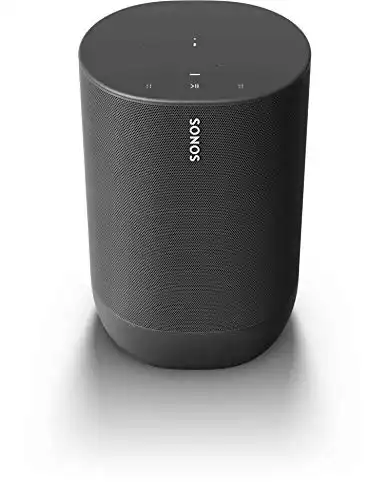 We earn a commission if you make a purchase, at no additional cost to you.
Sonos Ray
Sonos Ray Essential Soundbar
Sonos Ray is available for $279 with the product dimensions of 22.01 x 3.74 x 2.8 inches, weighing 4.29 pounds. The speaker has Infrared, Optical, and Ethernet as the connectivity technology. To complete a 5.1 system, you can add Sub and two Sonos Ones as back speakers for surround audio. The Apple AirPlay 2, Sonos application, Spotify Connect, and other tools let you stream content from your preferred services over WiFi.
Waveguide splitting allows sound to be projected from side to side, and advanced processing precisely places objects in space. Customized acoustics perfectly balance the high and midrange frequencies, and exclusive anti-distortion technology creates bass with the ideal weight.
Compact design with Trueplay tuning technology:
To ensure that content always sounds exactly as it should, Trueplay tuning technology adjusts the sound for the particular acoustics of your location. But you need an iOS device that is compatible. To reduce interference from neighboring surfaces, the design is created so that all of the acoustic parts face forward. So Ray will sound amazing even if you put it on your TV stand. The sleek, subtle style mixes in beautifully with your decor and won't detract from the action on the screen.
Easy setup and TV compatibility:
Within minutes, you may go from unboxing to incredible music. All you have to do is connect your TV, put in the power wire, and launch the Sonos application. The Sonos application is quite helpful in many tasks. Ray can be connected to almost any TV, and the sound can be controlled with your existing remote. You can link your computer for a next-level gaming setup.
Pros:
Compact design

Ideal for beginners

Great spatial audio separation

For exact audio quality, use anti-distortion technology and custom acoustics.
Cons:
An HDMI connection is required.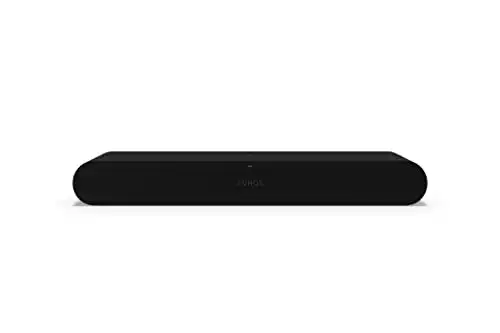 We earn a commission if you make a purchase, at no additional cost to you.
Beam Gen 2
Sonos Beam Gen 2
Sonos Beam Gen 2 speaker is available for $481 with the product dimensions of 25.59 x 3.94 x 2.76 inches, weighing 4.4 pounds. The beam speaker features Wifi as the connectivity technology and is available in two color options: Black and White. Atmos offers a broad soundstage with a 3D surround audio effect, strong bass, and speech that is crystal clear. When the TV is off, stream audiobooks, radio, podcasts, and music from all your favorite services. The Sonos app, Apple AirPlay 2, your TV remote, and your voice via Amazon Alexa or Google Assistant may all be used to control the speaker.
Crystal clear sound with Dolby Atmos:
Dolby Atmos provides excellent sound throughout the room. Dolby Atmos creates a 3D effect by mapping sound in space, giving you the impression that planes are flying overhead, people are moving about the room, and the music is all around you. But a TV capable of supporting Dolby Atmos and Atmos-encoded material is needed. You can turn on Speech Enhancement in the Sonos application for even more clarity. Television shows, films, and video games provide surround audio and incredibly clear speech in this beam speaker.
Provides high quality with low volumes:
At whatever volume level, the cutting-edge audio processing ensures even, wall-to-wall sound. Turn on Night Sound in the app to lessen the intensity of loud sounds and boost quiet ones when you are interested in watching TV but need to keep the volume down. With just two cords and step-by-step instructions from the app, you can receive incredible sound in just a few minutes. This makes the setup and installation process simple.
Pros:
Clear, accurate, and balanced sound

Easy to setup and use
Cons:
Expensive

The app needs some improvement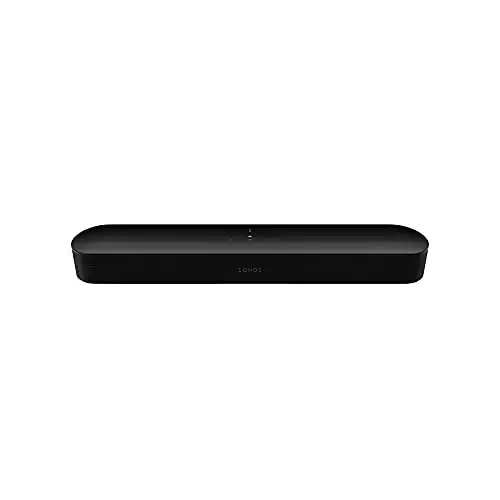 We earn a commission if you make a purchase, at no additional cost to you.
Sonos Roam
Sonos Roam
Sonos Roam speaker is available for £179 with the product dimensions of 60 x 60 x 85 cm, weighing 430 grams. When you are away, Roam connects with your device and automatically connects to your home WiFi network. The speaker's carefully designed acoustics produce sound with depth and clarity. Roam can also be set up vertically to conserve space or horizontally for increased stability. For the optimum listening experience, the sound changes depending on the speaker's angle. The speaker comes in a variety of luxurious color choices, including Shadow black, lunar white, red, blue, and green.
Refined design with Rugged durability:
Roam's elegant design makes it a perfect fit for every room in your house, and its lightweight, ergonomic construction makes it simple to move around while you're out and about. The speaker is made of shock-absorbing materials and has an IP67 rating for water and dust resistance. Roam is equipped to handle any climate and surface.
Built-in rechargeable battery and Automatic Trueplay tuning technology:
The speaker's integrated rechargeable battery provides up to 10 hours of uninterrupted playback at medium volumes. Roam automatically tunes the sound to the environment and content using Trueplay technology.
Pros:
Unique design with versatile standing options

Great array of connection options

Lightweight with good sound quality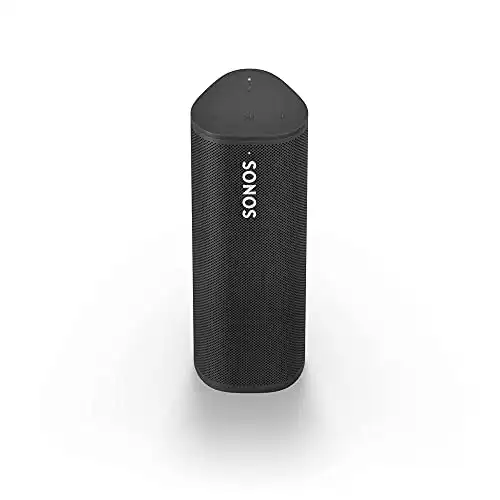 We earn a commission if you make a purchase, at no additional cost to you.
Sonos Arc
Amazon's Choice
Sonos Arc- Premium Smart Soundbar
Sonos Arc speaker is available for £825 with the product dimensions of 114.17 x 11.57 x 8.7 cm, weighing 6.2 Kilograms. It has HDMI as the connectivity technology, and Gaming Console, Television as the compatible devices. With the aid of Arc's sophisticated processing, a five-phased array of channels expertly and timelessly convey sound to your ears from all sides.
The sound is tuned for the specific room acoustics using improved true play tuning technology, which even calibrates the height channels for accurate localization. You can alter your system to play the music you want, wherever you want. The speaker is offered in the colors Black and White.
Cinematic and 3D sound with Dolby Atmos:
The best smart soundbar for gaming, music, movies, TV, and more. It produces a sound that is quite realistic. You may enjoy managing the speaker with your voice, Apple Airplay 2, the app, automatic remote sync, and more. With the precise and immersive spatial audio of Dolby Atmos, you can experience and enjoy shows, movies, music, and games. Every whisper and explosion are reproduced with dramatic clarity, richness, and depth by Arc's upward-firing drivers, which also create a multi-dimensional soundstage that dances around you.
Elegant design with Voice commands compatibility:
Arc sits beneath big UHD TVs without drawing attention thanks to its elongated design and subtle contour. When Arc is attached, a magnetic sensor detects it and cleverly modifies the EQ to reduce resonance that would otherwise produce excessive bass. You may entirely operate without using your hands by playing music, checking the news, setting alarms, asking questions, and more with the built-in Alexa and Google Assistant.
Pros:
Amazing design with a sleek look

Outstanding sound quality with google assistant compatibility

Great customer service and easy set-up procedure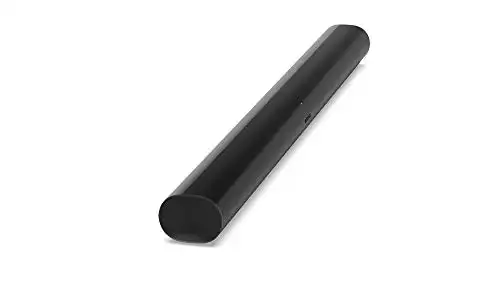 We earn a commission if you make a purchase, at no additional cost to you.
Sub Mini Sonos speaker
Sonos Sub Mini
Sonos Sub mini speaker is available for £399 with the product dimensions of 23 x 23 x 31 cm, weighing 9.3 Kilograms. When concealed in plain sight or tucked under furniture, the distinctive cylindrical style fits right in at home. It features a subwoofer as part of a surround sound configuration and is appropriate for small and medium-sized rooms. There is, however, no support for voice control. The speaker is offered in the colors Black and White.
Quick and easy setup with better bass:
The setup is quite simple. To wirelessly attach your soundbar or speaker and adjust the bass level, you simply must connect it to the power cable and launch the Sonos application. With your associated product, the volume automatically adapts to your space. Even if you position Sub Mini next to a wall, Trueplay tuning technology adjusts the bass for the acoustics of the area so it won't sound difficult muddy, or flat.
Unique cylindrical design with Dual custom woofers:
When concealed in plain sight or tucked under furniture, the distinctive cylindrical style fits right in at home. You will feel more fully involved in every scene and song thanks to the rich, powerful bass end produced by dual bespoke woofers and cutting-edge processing. Both woofers are facing inward within the acoustically closed cabinet to produce a force-canceling effect that cancels distortion.
Pros:
Unique cylindrical design

Ability to customize the bass and other settings

Big bass performance for a Sonos small hub
Cons:
No voice control compatibility

Expensive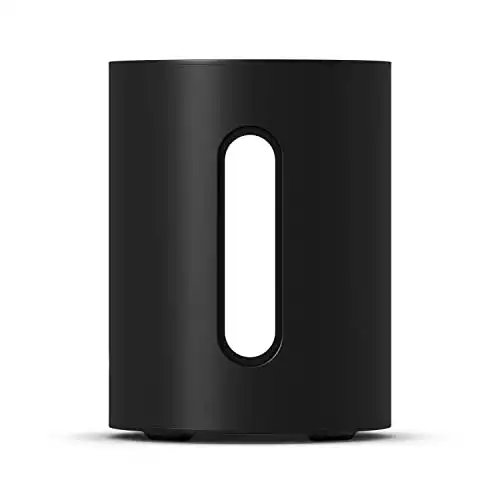 We earn a commission if you make a purchase, at no additional cost to you.
Which factors to look for the best Sonos speaker?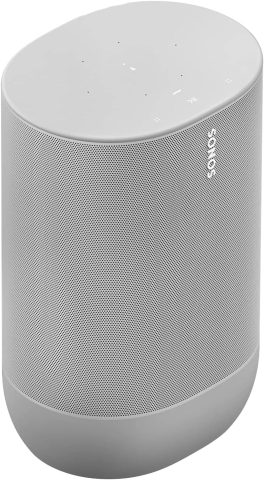 Consider Sonos speakers that reproduce sound in a rich, clean, and balanced manner over a range of frequencies. The speaker's wattage, drivers, and processing of sound capability should be taken into account. Check if the speakers include music -Spotify and Apple music streaming services. Think about how big the space is where the speaker will be located. Verify that the speaker is capable of both wired (Ethernet) and wireless (Wi-Fi) connections. Make sure the speaker is compatible with Sonos' dual-room system if you wish to set up multi-room audio. There are several Sonos speakers which have smart features and cons simultaneously. Like, the speaker's ethernet requires expensive dongles, and google assistant support is absent. However, you shouldn't consider such speakers with a lack of great features.
Conclusion
Sonos has permanently changed the audio industry, and its dedication to quality is demonstrated by the extraordinary selection of speakers they offer. Every person's demands and tastes can be properly met by a Sonos speaker thanks to the many options available. Sonos speakers offer unrivaled quality and innovation, whether you want robust surround sound for your home theatre, a small speaker for listening to music on the go, or a multi-room configuration for seamless audio across your entire house.
However, apart from this, there are other best speakers-Sonos speakers that you should consider as well.
Ikea Symfonisk Speaker Lamp 2: Ikea Symfonisk is a speaker and lamp hybrid offering elegant lighting with high-quality audio. Moreover, the Ikea Symfonisk Bookshelf speaker is also worth considering.
Sonos Era 100 and Sonos Era 300 speakers: Sonos Era speakers provide powerful audio performance in a small, portable style.
Read More