One of the very successful innovations recently is Smartwatch. There are so many watches in front of us that are magnificent pieces of technology. In this post, we will review some of the best Smartwatches that you should consider before buying one.
And also, review some of the hybrid watches you can use regularly. Also, you will love some of these watches. And however, at the end of the article on the best watches, you will have the full specs and performance of all watches.
Features will attract you as they are soo good. And all the watches are perfect in performance, and the characteristic of the watch is very unnoticeable. In this article, there the watches from different brands.
Some watch works on wifi, And some on a Cellular network, Both are good, but Cellular has some extra benefit of calling through the device. With wifi or Bluetooth connectivity, you can only use it as a watch.
But with the cellular connection, The watch will allow you to use the whole mobile app on the Product.
Apple Watch Series 8
Apple Watch Series 8
The Apple Watch 8 is the latest model thus far. In terms of functions, there is a minor betterment over the previous Apple Watch Series 7, as it has a better design and a bigger screen.
The skin temperature sensor, which may help with cycle and fertility tracking and sleep tracking, is the latest inclusion in the Apple Watch Series 8 compared to the previous Series 7 model.
The long-awaited low-power mode, which can enhance the present Apple Watch's battery life to 36 hours, was also included in the Series 8's debut.
The Apple Watch 8 includes a new crash detection capability that uses better motion sensors to provide immediate assistance when you need it most.
Apple Offers Modern sensors that offer insights that can improve your understanding of your health. With the updated Workout app, you may train in new ways and get sophisticated analytics for greater insight into your exercise performance. Furthermore, Apple Watch includes three free months of Apple Fitness+.
When you need it, new safety measures can bring you assistance. Even when your hand is down, viewing the vivid, Always-On Retina display is simple.
The Apple Watch 8 is a fully functional fitness tracker and communication device. This wristwatch contains watchOS 9, the latest and the best to date.
This is the finest Smartwatch for you, whether you want to use it for exercising, taking calls on the go, or using the top Apple Watch applications.
Apple Watch requires the most recent iOS version on an iPhone 8 or later. It easily integrates with all of your Apple products and services. One can tap to find their devices, unlock their Mac and can send and receive money through Apple pay (Make sure to set up Apple Pay).
It has WR50 water resistance, IP6X certification for dust resistance, and is crack- and swim-proof.
It also has the cellular version that even if your iPhone's battery is dead, you can use various apps on your apple watch.
Pros:
Best on Health Tracking.

WR50 Water Resistant.
Cons:
Very Pricy.

Only Works With Apple Products.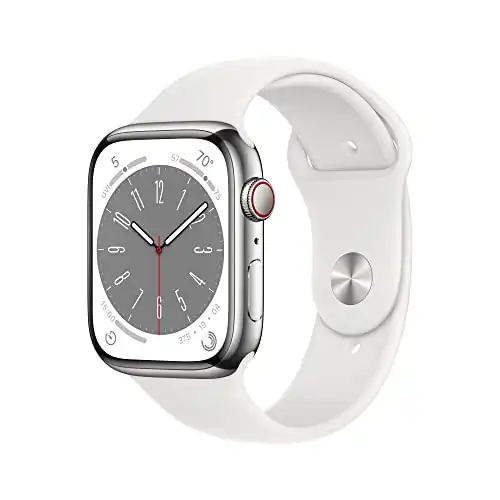 Samsung Galaxy Watch 5 Pro
SAMSUNG Galaxy Watch Pro 5
Enjoy phone-like features without using your phone on Samsung's latest Watch 5 Pro. Even without your phone or wifi, you can dial and receive calls, keep track of your workouts, send texts, and open a playlist wherever you are, your Samsung Galaxy Watch5 Pro with LTE connectivity is all you need.
It comes with advanced fitness trackers, blood pressure monitors, multisport trackers, time displays, and GPS have supported applications. It uses LTE cellular connectivity technology as well as Bluetooth. And 802 11 AGNAC are its wireless communication standards.
You can manage your overall sleep quality with a sophisticated sleep tracker that analyses your sleep stages while you sleep; moreover, it has advanced sleep coaching that supports the development of improved sleep habits by examining your sleeping habits.
The Samsung Galaxy Watch5 Pro gives you immediate access to body composition information; You may now obtain readings of your body mass index, body water, muscle mass, and body fat at your desired time (BMI)
you can obtain an exact heart rate with the help of an enhanced, flexible Samsung BioActive Sensor that's also placed closer to your skin to keep you informed about your health.
You can make the most of every experience with Auto Workout Tracking, which allows you to monitor more than 90 workouts, including challenging ones like HIIT, manually or automatically in only a few minutes.
Introduce yourself to the watch that lasts as long as you do. The Samsung Galaxy Watch5 Pro's enhanced battery sustains your busiest day. The cellular version of this Smartwatch
With its durable titanium casing, you may train worry-free while engaging in strenuous outdoor activities like hiking and rock climbing, thanks to its 2x more challenging sapphire crystal glass display. You can now roam while remaining aware of your whereabouts; On your wrist, the Galaxy Watch5 offers improved GPS with voice navigation.
Pros:
Best Smartwatch For Android.

Premium Quality Design.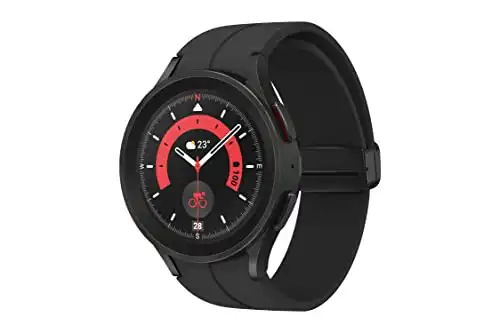 Google Pixel Watch
Google Pixel Watch
The Google Pixel Watch offers a stunning circular, domed appearance and a new Wear OS by Google interface, making it simple to receive assistance quickly.
With Fitbit activity monitoring, you can track your movement, calories burnt, and more. Monitor your heart rate to gain insight into your sleep, and use an ECG to check for AFib in your heart rhythm. Enjoy six months of Fitbit Premium free of charge as well.
You can utilize Google Wallet for contactless purchases, Maps' turn-by-turn instructions, and Calendar's event alerts to save time. Keep in touch and work wherever you are; you can make calls, manage your email, and react to messages directly from your wrist.
The screen size of this AMOLED display is substantially less than that of the Apple Watch 8's square screen, yet Google still manages to do a lot.
Because of that curvature, there is more glass on the front of the device than on the Apple Watch 8, enhancing its attractiveness and concealing a wider black bezel around the screen.
When you feel uncomfortable, Emergency SOS on your watch can notify dependable contacts or 911. The fitness watch can endure water pressure of up to 5 ATM (50 meters) thanks to its scratch-resistant Corning(R) Gorilla(R) Glass construction.
Google has adopted a proprietary charger and straps, following Apple's example. Sadly, it's hindered by a few peculiarities. It lacks critical essential fitness functions like SpO2 readings and auto exercise detection; falling will only include fall detection at the beginning of next year.
It even takes a while to recharge! Additionally, the battery is inadequate, lasting approximately an entire day while tracking sleep. Also, it only functions with Android smartphones.
Despite all this, you will usually wear the Pixel Watch since it looks good and effectively does functions effectively. You'll like wearing this if you are okay with repeatedly placing it on a charger.
Pros:
Complete range of Google services is available.

Google Assistant works great

extremely comfortable to wear

The Fitbit app is extensive,

Unique, upscale styling.
Cons:
Lackluster battery life

Too expensive

Only one size

No blood oxygen sensing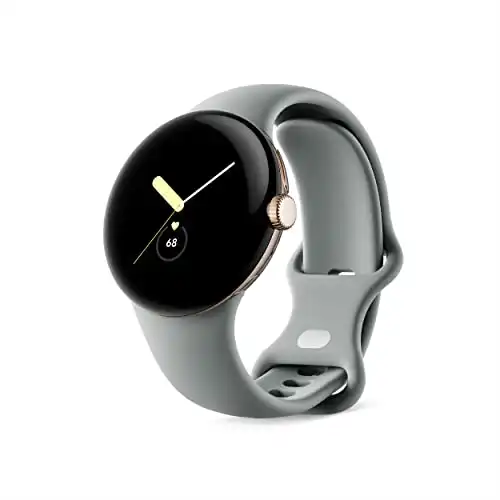 We earn a commission if you make a purchase, at no additional cost to you.
Fitbit Versa 4
Fitbit Versa 4
This is a more compact version of the Fitbit Sense 2, and the Fitbit Versa 4, is a reasonably priced Apple Watch substitute. The Versa 4 is just as competitive with the more expensive Sense 2 for everyday exercise tracking and surface-level smartwatch appeal. At the same time, it lacks the sophisticated EDA stress sensor and the ECG heart health technology.
The display is the same 1.58-inch, 336 x 336-pixel OLED panel as the Versa 3's. It is clearly less crisp than the smaller 360 x 360-pixel screen, but it is still bright and clear outside and only shows a minor fuzziness to text when you look closely.
The Smartwatch weighs just about 40g when wearing a strap, making it comfortable to wear all the time and unnecessary to remove in the shower or swimming pool. Its 5ATM/50M water resistance is sufficient to wash the watch under a faucet.
However, Fitbit advises against wearing it in "hot tubs or saunas," so keep that in mind if your gym is a little posher than most.
In addition, this has a beautiful appearance for a smartwatch thanks to its small profile and stylish metallic finishes. Yes, it has a similar appearance to the Fitbit Sense 2, but if you have a tiny budget or aren't as concerned about stress tracking, this is a better option.
This watch still offers trustworthy sleep tracking and other benefits with Fitbit Premium. The Fitbit smartwatch boasts an upgraded interface and design compared to Fitbit's previous Smartwatch, simplifying navigation and bringing back a physical side button.
The same excellent 6-day battery life and Amazon Alexa speech assistant are also included. This Smartwatch's erroneous heart rate measurements negatively impact earned Active Zone Minutes, making it less effective as an activity tracker. It lacks Google Assistant and third-party app integration, making it less "smart" than the previous model.
Pros:
Charge in 1 hour

Battery lasts 6 days

Super comfortable

Tracks a lot of activities – swimming, running, biking, intervals

Tracks breathing rate
Cons:
Setup- If you have never used Fitbit before, it takes a little bit to sort all the settings.

No Deezer and Pandora.

Versa 4 does not support EDA or cEDA readings.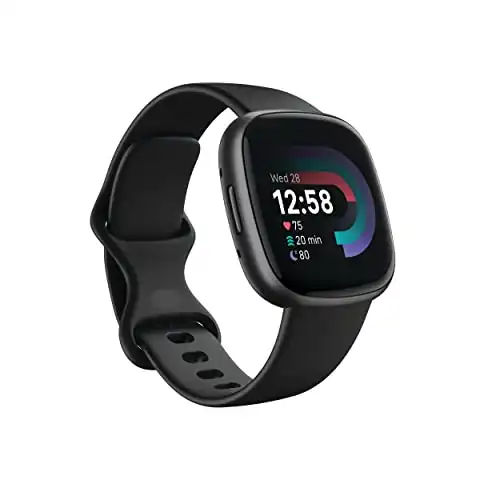 We earn a commission if you make a purchase, at no additional cost to you.
Garmin Venu 2
Garmin Venu 2
Garmin Venu 2 comes in two colors and has an eye-catching AMOLED display. The Smartwatch has Nineteen hours of battery life in GPS mode. 7 hours in GPS + music mode. GPS is a supported application.
It has GPS, wifi, and Bluetooth are all forms of connectivity. Bluetooth is a wireless comms standard. Obtain a continuous overview of your health owing to the up to 11-day smartwatch mode battery life. Music and GPS can extend battery life to up to 8 hours.
You can also use energy saving and quick charging. To get ready for your next running challenge, use preset exercises that include cardio, yoga, strength, HIIT, and Pilates, design your own via the Garmin Connect app on your compatible smartphone, and try Garmin Coach's free adaptive training plans.
It has up to 650 songs, including playlists from Spotify, Amazon Music, or Deezer, which can be downloaded to your watch. Leave your cash and credit cards at home with a supported nation and payment network since Garmin Pay's contactless payments allow you to make purchases while you're on the road.
Smart notifications are delivered straight to your wrist when synced with a suitable Android or Apple smartphone, so you never miss a call, text, or social media alert.
You can get the experience of your body better with comprehensive health monitoring features, including a health snapshot, Body Battery energy levels, sleep score, fitness age, stress tracking, and more.
Safety and tracking features in this smartwatch include help and incident detection (during outdoor activities) and sending a message to your emergency numbers with your current position.
It has more than 25 integrated indoor and GPS sports applications, including walking, running, cycling, HIIT, swimming, golf, and many more, discover new ways to keep your body active.
Pros:
Great features and long battery life..

Can't beat the price!
Cons:
Cannot control music during workout or adjust font size.

Just avoid if you want accurate.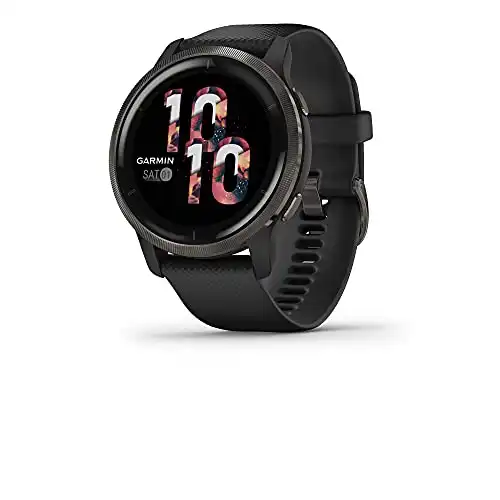 Withings Scan Watch
Withings Scanwatch
The next Smartwatch in our best smartwatches review is not a typical smartwatch, But you can describe it as a hybrid watch that is not too digital looking.
It will fulfill your wish of having a smartwatch that will give the features and specs of a smartwatch, but the look will be regular and casual. It is the perfect choice for those who don't want to show off their Smartwatch but rather for minimal use only.
a PMOLED screen with a rechargeable battery that lasts up to 30 days, a combined heart rate and oxygen saturation sensor, three electrodes, an altimeter, a sapphire glass, and more.
With usual usage, up to 30 days; furthermore, 20 more days while in battery reserve mode. Text and call-capable smartwatch Easily connect to Android and Apple iOS cellphones with the free Healthmate App.
Fitness Level via VO2max estimate, coupled GPS, elevation, step tracker, and specific training parameters. Outstanding as a running watch. Within 30 seconds, the watch's ECG may identify atrial fibrillation or a healthy heartbeat.
A sleep tracker generates a score based on low and deep sleep cycles, sleep duration, and wake-ups—Monitor heart rate daily and nightly to aid in long-term health improvement.
Both watches for men and watches for ladies. Track heart rate constantly while exercising to maximize training. To find interchangeable intelligent watch bands, visit the Withings Store.
This Smartwatch does not give too many tech vibes; if you wear it, it will provide you with a simple casual look that matches your formal and professional attire.
It comes in various colors, so you will be glad to grab one. It is available in different pattern dials for your choice to select. And the straps also are removable, and you will have many options to choose from.
Pros:
Excellent battery life.

great performance.

great features.
Cons:
Terrible accuracy and calculations sometimes.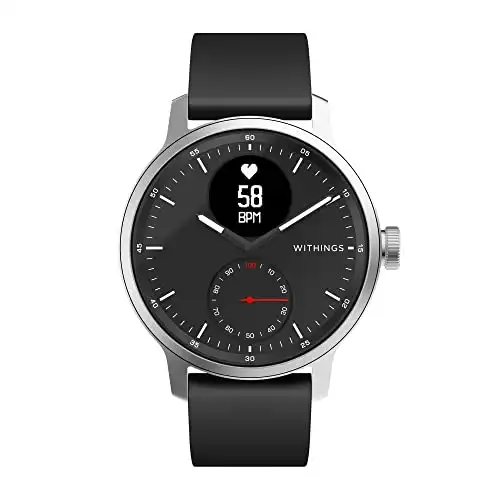 Garmin Vivomove Sport
Garmin vivomove Sport
Garmin Vivomove sport is a unique one of kinds brand. It focuses on the looks of smartwatches. Unlike the regular digital Smartwatch with only a screen available, it has a semi-digital interface.
With this kind of look, it comes in the category of hybrid watches. The analog is beautiful, and most Garmin smartwatches are round.
It is produced both for males and females. But the targeted customers are mostly females, and this design looks perfect and stylish on females.
Elegant 40 mm hybrid smartwatch with a classic analog appearance and advanced functionality. Up to 5 days of battery life in smart mode and an additional day in watch mode.
With a compatible smartphone, stay in touch with intelligent alerts for incoming calls, text messages, calendar views, and more. With various health monitoring tools at your disposal, such as Body Battery energy levels, Pulse Ox, sophisticated sleep monitoring, stress tracking, women's health tracking, and others, you can get to know your body better.
Smartwatch connects to your smartphone's GPS to track outside walking or running activities; other activity profiles for yoga, strength training, cardio, and more are also available. During outdoor strolls, runs, and bike rides, Incident Detection and Assistance safety, and tracking capabilities send a message with your current position to emergency contacts.
Setup is necessary, and your smartphone must be in a location with network coverage and data access. Activity monitoring tracks steps, calories, sleep, and more throughout the day.
This device is not medical; it is meant to estimate your activity and metrics. Metallic dials and accents, which come in hues to fit every choice and taste, may enhance your sense of style.
With 20 mm industry standard fast-release watch bands, you may quickly alter how you appear. A hidden touchscreen display that responds to your actions will become apparent when necessary.
Pros:
Cool Functions.

Universal Compatibility.

Minimal Digital Look.
Cons:
Sometimes Faces Battery And Software Issues.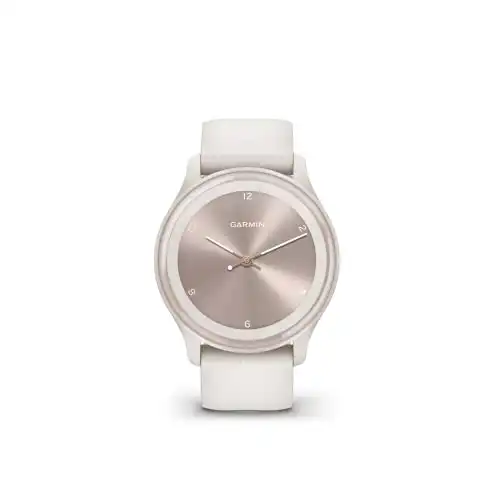 Apple Watch Ultra
Mobvoi Ticwatch Pro 3 Ultra
Ticwatch Pro 3 Ultra
Ticwatch Pro 3 Ultra GPS Smartwatch is powered by Wear OS by Google and equipped with the Qualcomm Snapdragon Wear 4100 Platform and Mobvoi Dual Processor System.
It delivers performance and connection that is quicker and more seamless: 8 G ROM memory and 1G RAM. NFC supports Google Pay.
Display with two layers Ticwatch Pro 3 Ultra GPS smartwatch can operate in Smart Mode for up to 72 hours and Essential Mode for 45 days thanks to 2.0 technology. Knurled stainless steel bezel, 1.4-inch AMOLED screen (454*454 high-resolution), auto-adjustable brightness, and Corning Gorilla Anti-fingerprint Cover Glass combine to create a stylish and practical design.
Dual display with personalized colored backlight durability that is approved to US Military Standard 810G. You may pick the pattern style you want and change the data displayed on the watch faces, such as the weather, heart rate, and steps.
With the new, programmable lighting, you can enjoy superior visuals and read the screen comfortably in any situation, including at night. Your exercise and health statistics are tracked in real-time with TicWatch Pro 3 Ultra GPS.
With enhanced 100+ professional sports modes, IP68 waterproofing, pool swimming compatibility, built-in speaker and microphone, barometer and sleep tracking, blood oxygen saturation, stress monitoring, and 24-hour heart rate monitoring (powered by a more accurate sensor ).
There are new features like IHB/AFib Detection and Fatigue Assessment, among others. Analyze your degree of mental weariness and everyday energy.
This feature's goal is not to diagnose, treat, or care for any medical problem.
Pros:
Incredible Battery-Life.

Good Performing Hardware And Software.
Cons:
Lags Sometimes.

Does Not Performs sometimes As Advertised.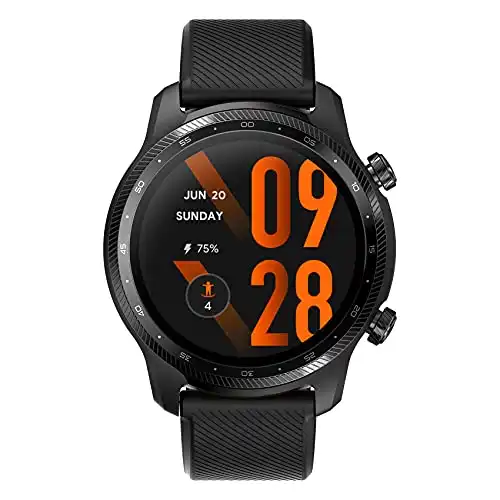 Samsung Galaxy Watch 4 Classic
SAMSUNG Galaxy Watch 4 Classic
The Samsung Galaxy Watch 4 Classic is the first wristwatch to provide body composition information directly on your wrist. You may now obtain readings of your body mass index, basal metabolic rate, body water, skeletal muscle, and body fat on your own time.
Using advanced sleep monitoring, awaken feeling revived and renewed; Your Samsung Galaxy Watch4 Classic sleep tracker monitors your sleep and SpO2 levels when you go to bed.
Ensure that your ECG is correct and watch for any signs of atrial fibrillation or a frequent kind of abnormal heartbeat; Utilize the Samsung Health Monitor app on your compatible Galaxy phone to send your doctor tailored readings.
VO2 Max measurements measure your oxygen levels to monitor and track your heart and lung endurance, which can help you run longer and faster.
You can talk, text, stream music, and more all be made while you're on the road thanks to the Samsung Galaxy Watch4 Classic, which is an addition to your phone.
Utilize the strength and practicality of a few Google services and applications directly from your wrist; Purchase coffee; obtain park instructions; For assistance on nearly any issue, use the Bixby or Google Assistant; Play your preferred music on YouTube.
Get the most out of each activity with sophisticated workout monitoring that can quickly and accurately identify six everyday activities, such as swimming, rowing, and running.
Connect to live coaching sessions via your Samsung galaxy or participate in exciting Group Challenges with your friends to stay motivated.
Pros:
Can Use Most Of the Feature With Samsung Phone.

Great Sleep Tracking Features.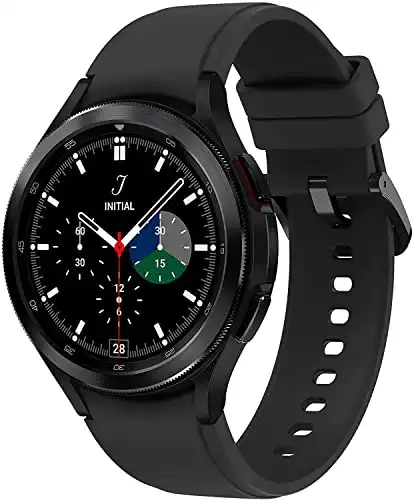 Conclusion
In our article about the watches, we have discussed every aspect related to the presented devices in our article. All of them are very good in their way.
But the main factor is budget; all the watches on our list are premium quality and have the best elements in the entire market.
You will have a tough choice choosing the watches. However, It would help if you considered various factors, like features, battery life, etc., and you will find one for yourself.
All of the products in this best smartwatch review are very good and have one of the latest features in the industry. But the decision is yours about the suitable and affordable device.
Read More: