If you are planning to get your kid their first tablet, then the Amazon Fire HD 10 Kids is one of the best choices. But before buying it, here are all the points and knowledge you must have about the tablet.
What you will see?
Amazon Fire HD 10 Kids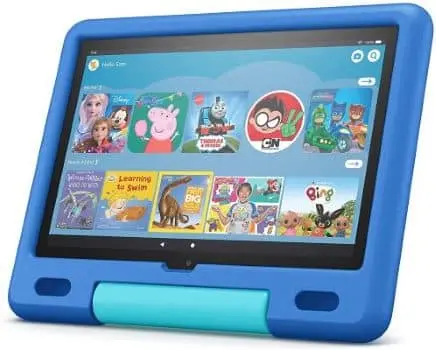 The Amazon Fire HD 10 Kids tablet is specifically built for kids aged 3 to 7. It's a good device to hand over to kids who could otherwise destroy your costly iPad. The Fire HD 10 Kids has more parental settings than typical tablets. However, the Amazon Fire OS constraints may make the Fire HD 10 Kids way too restricting for older children. The normal Amazon Fire HD 10 Kids Edition is for very young children, whereas the Kids Pro version is for older children, for the age range of 6 to 12. This means a less childish-looking but more durable protective case, as well as more protected games and apps. This is the most spacious of the Kids Pro tablets, with a screen that's ideal for watching videos and playing games.
Pros
Durable build
Great parental controls
Bright and sharp display
Large case provides a lot of protection
Worry-free guarantee
Bright screen
Cons
Lack of Google Play Store apps
Poor sound quality
Underwhelming performance
Expensive
Limited app library
Quick Glance:
For $199, you can get the Amazon Fire HD 10 Kids 2021 version.
The tablet, a 9W USB-C charger, and a robust but soft rubberized case that you can snap the tablet into are all included. There is no lock-screen advertising on this Fire tablet. An octa-core 2.0 GHz processor powers this tablet. Along with this, you get 32GB of storage and 3GB of RAM. Although, this model has no storage or RAM enhancements options. The HD 10 Kids model is for children aged six to twelve, while the normal HD 10 Kids is for children aged three to seven.
When you purchase the Amazon Fire HD 10 Kids, you will receive certain Amazon bonuses. You'll get one year of Amazon Kids+ for free, as well as a two-year warranty. If the tablet breaks, you can return it for a free replacement under the plan. You'll have access to 20,000 books, popular apps and games, videos, songs, Audible books, and more with the Amazon Kids+. It will cost you $3.00 per month after a year. Without Amazon Kids+, you may simply use your Amazon account to transfer material from an adult profile on the tablet to a child's profile.
| | |
| --- | --- |
| CPU | 2.0GHz octa-core CPU |
| RAM | 3GB |
| Display | 10.1-inch, 1,920 x 1,200 pixels |
| Storage | 32GB |
| Ports | 1x USB-C, headphone jack, microSD |
| Battery life | 14:32 |
| Dimensions | 9.7 x 6.5 x 0.4 inches |
| Weight | 1.02 pounds (without case) |
Design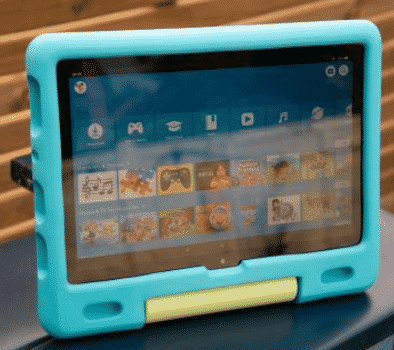 With the durable Fire HD 10 Kids, parents don't have to worry about handing over their costly tablet to a child, only for them to drop it and destroy the screen after a few hours or days of play. The Fire HD 10 Kids feels considerably more robust and sturdy in the hand. The supplied rubberized case with kickstand set it apart from the base Fire HD 10. Moreover, you can choose from three different colors for the case. The color options include pink, blue, and aquamarine. The tablet is a plain black plastic device in terms of design. There is no glass on the back, and the finish is all aluminum. Only the front screen and camera lenses are made of glass.
Dimensions
When you put the tablet into its soft rubberized cubby case, it keeps the tablet in place. The tablet comes with a flip-out stand that allows it to be watched or used on a table. Your kids can enjoy lowering the back kickstand and propping the tablet in their laps. In Tent Mode, you can utilize that stand to prop the iPad on the desk. The Fire HD 10 Kids can survive water spills as well as drops, which is key when giving it to small kids. The tablet itself measures 9.7 x 6.5 x 0.4 inches. With the case on, it measures 10.5 x 8.3 x 1 inch. Also, without the case, it weighs about 1.02-pound whereas with the case it gets up to 2 pounds.
A USB-C 2.0 port, a headphone jack, and a microSD card slot for storage expansion are all included on the Fire HD 10 Kids. There's a two-year guarantee on the tablet, and Amazon will replace it without question if it breaks. Because it has a very secure stand, your children will be able to use this tablet without it collapsing. It also serves as a convenient carry handle. When using the stand, the front webcam is strangely located at the bottom of the casing, rather than on top, as it is on the Fire HD 10 Kids Pro. This tablet is larger and thicker than the ordinary case-free model, but not to the point of being difficult to carry it somewhere. In fact, the larger size here may make it easier to grasp for smaller hands.
Display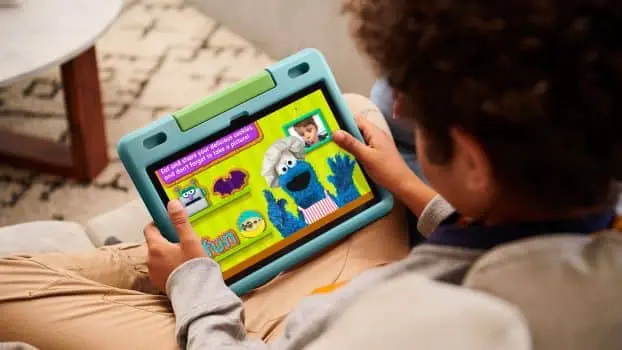 This tablet has a colorful and bright 10-inch Full HD 1920 x 1200 pixel display that gives surprisingly good image quality for an inexpensive tablet designed for kids. The bright and vivid display gives your children an amazing experience while watching their favorite shows. The colors on the monitor really popped in the videos. Given that most youngsters spend a significant portion of their tablet time viewing movies or TV episodes, a beautiful display like this is essential. The display has an average brightness of 405 nits and covered 107.7% of the Adobe sRGB color gamut.
Despite its wider bezels, the tablet does quite well in terms of pixels per inch giving you a better image quality (224 total PPI). The display was, however, a touch too reflective in the bright location during testing. The viewing angles, on the other hand, were fantastic. Amazon has carefully balanced features and pricing, the screen is easy to read, and the films are crisp. Colors are vibrant, contrast is superb, and brightness is excellent. Using the auto-brightness mode automatically adjusts the brightness and helps you save battery life. Fingerprints can be a concern, especially with children, but if you keep some screen cleaner on hand and take care of the tablet, you should be OK.
Audio
The Fire HD 10's two speakers are located on the device's top corners, one on each side. During our testing, both speakers emitted electronic sounds and beats at a volume that was neither too loud nor too soft. The bass levels were quite good, and the music sounded as deep and calming as it would on an original record.
Performance
The Fire HD 10 Kids is strong enough for casual and adult-approved YouTube streaming, online surfing, and book reading. All of this is because of its Helio P60T octa-core 2.0 GHz processor and 3GB of RAM.
However, remember that the Fire HD 10 Kids isn't built for intensive gaming or multitasking, instead, it is for watching YouTube, reading books, and viewing downloaded movies. So, it is adequate for the speed and performance of kids. Amazon claims that the Pro model has better online browsing and a larger app selection. Although, all Amazon tablets run on the same operating system, Fire OS, although features vary depending on your children's ages.
For the usage of younger children, the tablet has a simpler User Interface. This includes bold and bright shortcuts, and kids can search for apps and videos using the search bar. With this tablet, you get a one-year subscription to Amazon Kids+, which gives you access to thousands of videos, games, books, and audiobooks. Moreover, all of these are accessible for download and offline usage and are filtered by the age your children set in their profiles.
Battery life
On a children's tablet, battery life is critical since you cannot take it to recharge time and again while they are playing with it. The Amazon Fire HD 10 Kids works admirably in this area. It lasts up to 14 hours and 32 minutes while you surf the web on Wi-Fi and with the screen set to 150 nits of brightness. This tablet is meant to last a long time on a single charge. The tablet has a 6500mAh battery according to Amazon. After an hour of video viewing, the tablet had lost 6%, after two hours it had lost 11%, and after three hours it had lost 18%. It takes roughly 4 hours to fully charge the battery with the included 9W USB-C charger, which is quite slow. You can charge it overnight so that the kids can use the tablet during the day.
Cameras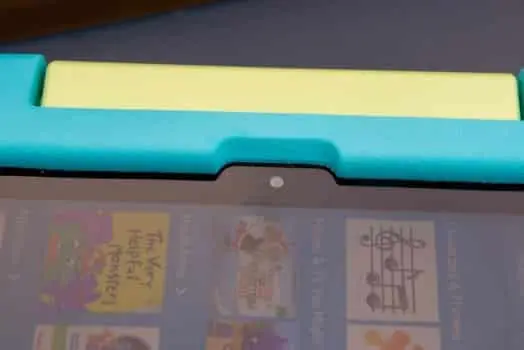 The front-facing camera of the Fire HD 10 Kids is 2.0MP, and the rear-facing camera is 5.0MP. With these cameras, you should expect to miss out on fine details. Consider it more of a fun addition for kids, and you'll get the idea. The front camera can be used for video calling.
Software
The Fire HD 10 Kids operates on Fire OS, thus it has several limitations. It can't access the Google Play Store by default, which means it can't access the entire Android software ecosystem, including Google programs like Chrome and Gmail. Although it allows you to set up numerous profiles on a single tablet and has some built-in parental controls. When you hand the tablet to a child, this can assist ensure that they don't go to the incorrect sites. After you turn on the tablet for the first time, you will instantly discover these parental controls. You need to first sign in with your Amazon account and then create a new profile for a child.
You can then set screen time limits using various choices and even pick some of the apps, movies, TV episodes, and games to load on the child profile from your Amazon account. Your kid will see the content on the main screen of their profile as links in various categories. They'll also have access to the camera and a top-of-the-screen search button. All the purchases are locked by default if someone is using the Fire HD 10 Kids with a kid profile. Even the web browser is restricted to a handful of websites that have been pre-approved.
Usage
The tablet can be used as a normal tablet if you log into an adult profile. However, this tablet does not run the full version of Android so might face problems. This includes not being able to Google products that aren't available on the Amazon App Store. Still, you get a decent number of options, though because everything passes through the Amazon AppStore, it's not as large as the Google Play Store. Although for younger children, this will not be an issue, older children may be less impressed.
The same goes for books. You get a good number of selections, but a Kindle Unlimited subscription doesn't get you access to the whole collection. Each child can have their own profile, with content tailored to their age group. It's easy to set up and you don't have to worry about your child accessing something wrong. The 32GB of storage space should suffice for your kid. Moreover, you can even use the microSD card to add up to 1TB of storage.
Parental Controls
With parental controls, you can restrict online browsing. The restriction can range from a complete ban to permitting only a limited number of hand-picked domains to filtered browsing. Moreover, you can establish app limits on categories and enforce bedtimes. This will help you prevent the kids from using their tablets till late at night. You can also establish goals for apps and ban kids from using them for fun until they've met their educational objectives. Everything is controlled via the tablet or the Amazon Parental Dashboard on the web. Given how dangerous the internet can be, the number of safeguards offered here makes this platform about as safe as it gets.
Setting daily goals, time limitations, age filters, and the ability to disable the camera and add a passcode are some of the other child profile settings available. All of these options can be managed by an adult on the device via the Amazon Kids app or online via a website. The entire Fire 10 HD Kids experience is reliant on an adult being present to download content for a child. After creating a child profile, you can switch between them by swiping down from the notification bar. The adult profiles are more fully-featured with full access to download other apps, movies, and more. Thus, switching to an adult profile requires that adult's PIN.
Conclusion
The Amazon Fire HD 10 Kids tablet is ideal for kids from 3 to 7 years old. It has a bright display, a long-lasting kid-friendly design, and a long battery life. Furthermore, the extensive built-in parental controls allow you complete control over what your child does on the tablet. With parental controls, you can set limitations on the websites and apps your kid can access. Moreover, you can even set daily goals and screen time. You receive a protective cover, a year of Amazon Kids+, and the two-year no-hassle guarantee with this model. Although the cameras are not that great, they are a fun addition for kids. The display gives a vibrant and bright picture to see videos and games.
If you have any questions, you can ask us in the comments section below.
Read More!