A Netgear Meural Wi-Fi Photo Frame is a 15.6-inch picture frame with two personalities. For the most part, it's a digital photo frame. You upload your holiday & family images to the display via the accompanying app.
You can, however, use the Netgear Meural as a little art gallery to impress friends & dates with your cultural power. While any photo frame may display JPEG files of well-known works of art, the Netgear application has a much larger collection.
You may test out roughly 100 for free, or pay $8.95 / £8.99 a month for access to about 30,000 with a Netflix-style membership. Other pieces are just accessible as paid downloads, which comes at a hefty price given that you're paying to have a 1080p image streamed to your screen, although we doubt many Meural users will go too deeply into this aspect.
The Netgear Meural's main selling point is that it makes images appear more paper-like than they might on a tablet, for example. It sports a matte screen with a broad viewing angle, and the screen brightness adjusts automatically to the ambient light.
However, given the display's rather high cost, the display part itself may be improved. Its resolution is only 1080p, that's not great for viewing images or art up close. As well as the color reproduction is a little constrained, resulting in slightly freckly deep reds.
However, if you're going to treat the Netgear Meural like one casual bit of techy living room furniture, these tiny image flaws won't bother you too much, and the display is certainly enormous.
What you will see here?
Price and availability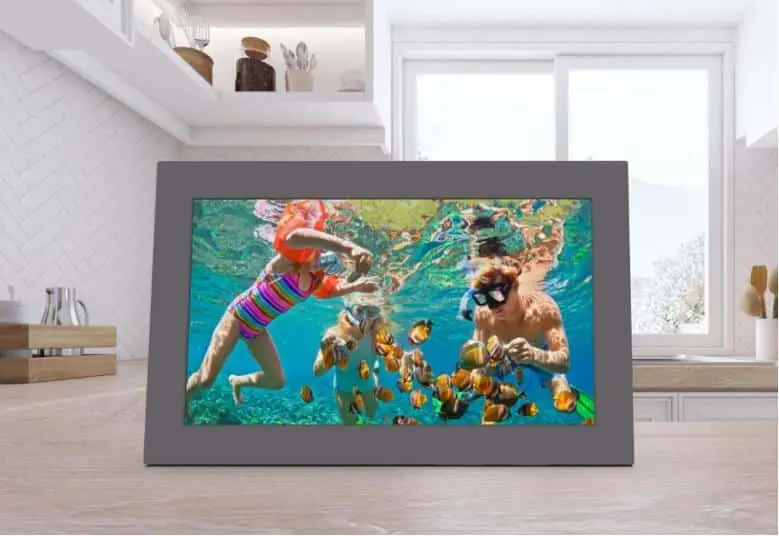 The original Meural Canvas's main purpose was to display professional and well-known fine art from all over the world. That's still possible with some of these small smart WiFi frames. While the first 100 works of art are free, a subscription costs $9 per month or $70 per year & gives you access to over 30,000 photos from major galleries across the world, and also 20GB of cloud storage. Otherwise, you'll get 4GB of free Meural cloud storage. Purchase the frame at $249.99 on Amazon.
Design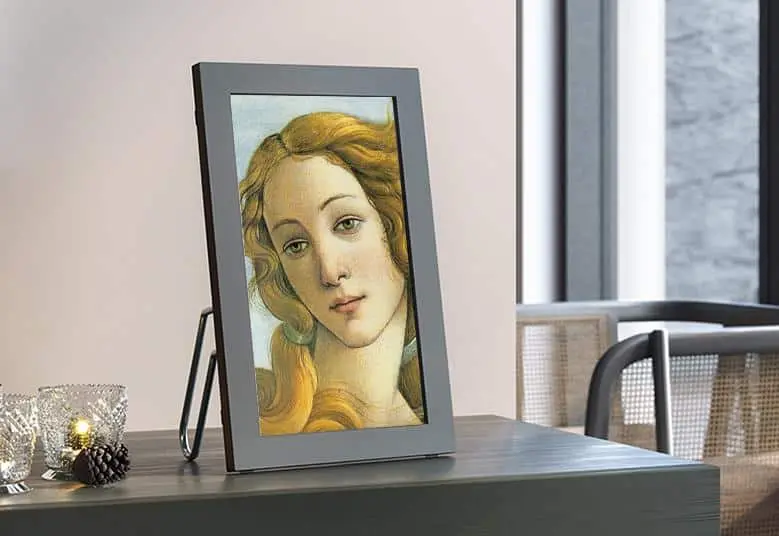 This Meural WiFi Photo Frame looks fantastic in any room of the house. Since it is big and bold on a tabletop or wall, and it can be viewed in portrait or landscape mode. It comes with all of the hardware you'll have to hang your frame, including wall mounts.
At the back, a durable fold-out stand with a well-designed L-shaped attachment for wall hanging works in both orientations.
Because the frame's five-foot power wire snakes into the back. You'll need to be close to an outlet to use it — a flaw shared by all digital photo frames.
Image quality
The anti-glare coating on the Netgear Meural Wi-Fi Photo Frame ensures a crystal-clear image from any angle. Its gesture controls allow you to access your photo albums & settings. The frame can work on varying levels of ambient room brightness, as defined in its app, and color reproduction is true to life without being overly saturated.
While the frame's 16:9 screen automatically displays photos in the correct position, to see both or either orientation. You must turn on or off the app's orientation match feature.
Interface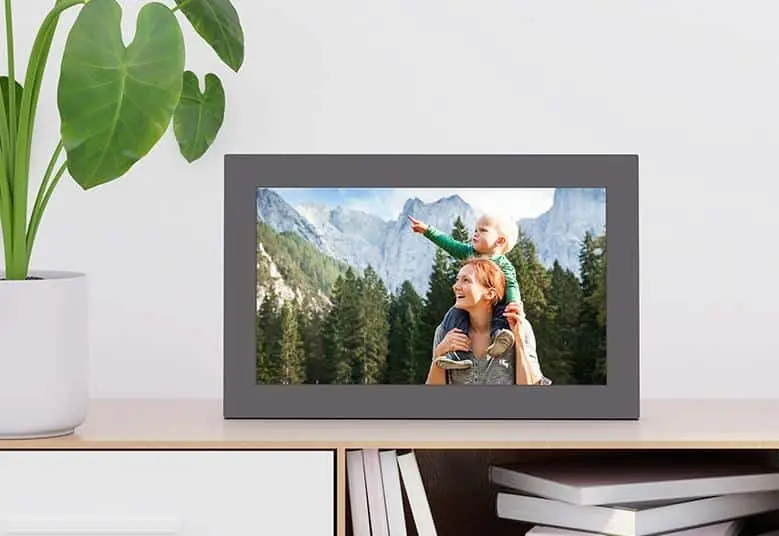 The gesture-based interface is the most problematic feature of the Meural frame. The concept of preventing customers from scratching the screen or misplacing a remote would be a first for consumer picture frames, and it's a fantastic one. When you get your hand nearer enough to the screen, a Gesture Here notification appears, indicating how on the screen you must wave to have the next as well as the previous image, a menu of any pictures in your playlist, as well an overlay image annotations, which are similar to curated descriptions in an art gallery for established artists.
Its gesture function is responsive at times, but not always. Even with the automatic gesture-based instructions, you ended up tapping the screen more than you wanted to try to adjust the image. Unlike the several films that show how to perform the wave motion. It was discovered that a quick wrist flick exactly at the cue was the most effective technique. Although your mileage can vary.
Netgear Meural Wi-Fi Photo Frame

connectivity with App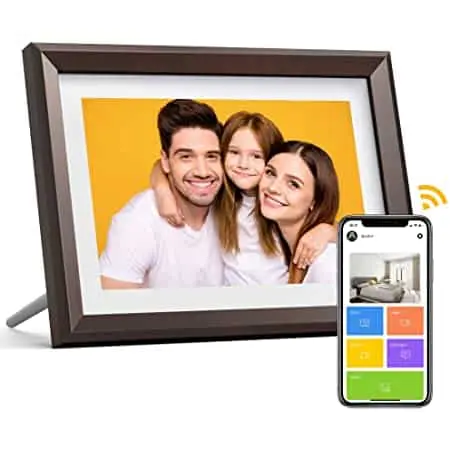 The Meural app controls the frame app, which includes Meural's extensive library of art as well as a suite for making collaborative picture albums to your frame. You may use the Meural app to share your photos, 15-second video snippets, and Apple's live photos. It can make image playlists and sync photo albums using your camera roll or gallery. However, there is no link to social network sites like Facebook, Google Photos, or Twitter.
You can set the frame to closed down at night, sleep after 4 hours, display constantly till the auto-sleep mode kicks in, as well as sleep whenever the room darkens. But there's no dynamic motion sensor to turn it off if no one is in the room to see it, which would have been nice for such a large, bright frame.
The program allows you to choose the duration of an image displayed on the screen as well as how images are presented, including stretching or filling the entire canvas.
Conclusion
With great color reproduction and genuine skin tones, it Netgear Meural Wi-Fi Photo Frame provides professional artwork. As well as your favorite images and videos, the full HD treatment. It was one of the top ways to present visual art. The gesture interface is novel and distinctive, but just wish it worked more consistently in practice. Despite this, the app works effectively, allowing you to simply control your frame if your gestures fail. This Meural frame is the only one of the digital frames that specializes in fine art presentation in addition to displaying user photographs and videos. It comes with a big number of free famous examples that you appreciate more than you expected on its exceptionally large, matte display.
Other high-resolution digital frames looking, such as the Aura Mason & Carver, Nixplay, Dragon Touch, & PhotoSpring, are substantially smaller or only available as a tabletop accessory. Though its dominating size necessitates some extra space on the desk or wall to truly shine, if you do have the space, this 15.6-inch full HD stunner will excite you each day with the world's greatest artists — or your photographs.
Read more: