If you are looking for a fun way to make music, Skoog Musical Interface lets you Play, jam and create music right out of the box. But before you decide to buy this interface, you might want to know all about it. Don't worry we have you covered, here is the review for the Skoogmusic Skoog 2.0 Tactile Musical Interface.
What you will see?
Skoog Tactile Musical Interface
With the Skoogmusic Skoog 2.0 Tactile Musical Interface, you can play musical instruments for iPad and iOS devices that everyone can play.
You can make music like a pro with this musical interface. All you need to do is, choose a song and get playing. You can tap it, twist it, or squeeze it, and get started, no matter what your skills, abilities, or musical talents you can play music. Keeps children engaged, while giving them the confidence to express themselves. The Skoog app works with Apple Music, Spotify, GarageBand and other music streaming services. The app automatically tunes your Skoog, so you learn as you play.
You can not only play music with Skoog but also learn to code. Skoog has been designed for everyone.
It especially keeps in mind the needs of early years, autism, physical disabilities, cerebral palsy, sensory impairments and learning disabilities, Down syndrome, William's syndrome, global developmental delay and a range of other disabilities.
Things to do for a musical interface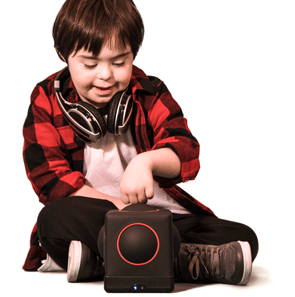 This musical interface works with an iPad, and lets you play and create music. You can create your own band and make music with your friends. You can play it with any part of the body, hands, elbows, feet, letting everyone enjoy.
Skoog transforms into a communication aid with the Skoog Access app, for users with speech or language barriers. You just need to tap or press it to get it running.
You can learn coding with Skoog and Swift Playgrounds, and build your own musical instruments and play with data using your Skoogmusic device.
With daily practice, you can become an electro master and up the game by building your very own playgrounds.
This musical interface is a great tool for teachers and educators to bring learning to life. They can carry out Skoog activities and lesson plans to create the most amazing lessons.
For people with disabilities, one of the greatest hurdles for creating music is the dexterity required for playing any traditional musical instrument. Skoog removes that barrier and makes music accessible for everyone.
Design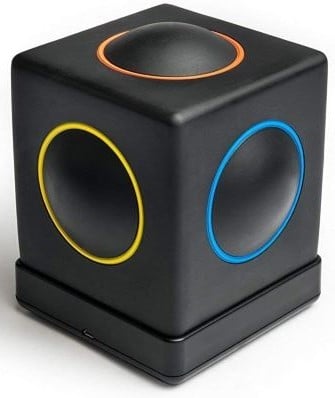 The Skoog is basically a cube with sensors on four sides that have a sensor that triggers a note or a sound on your iPad.
Beneath the arc-like protrusions, the triggers are present. You will see a coloured ring around each trigger for identification and programming purposes. The top ring is orange, the front ring is red, the back has a yellow ring, a green ring on the right and the left ring is blue. You will find the on/off, Bluetooth connection button on the bottom of the interface. The charging and Bluetooth connection indicators are present in the form.
Charging and Battery
The Micro USB charging port is present in the plastic base at the bottom of the backside. You can plug in the Micro USB charging cable to charge it. You will see the green battery indicator flashing while the interface is being charged. When it is fully charged, it will stop flashing and will be solid green. When you are using the device the indicator will be green and turn red when power is low. Moreover, you get a battery life of up to 10 hours of continuous play and it takes only 3 hours to fully charge it.
Connect with devices
You will see the Bluetooth indicator flash blue when the interface is looking for a signal and turn solid blue when connected to a device. To use the Skoog with any of the compatible devices, you will have to download the Skoog software. This software allows you to program the Skoog with various tones and preset sounds. It even allows you to connect to Garage Band and some other third-party programs to interface with the Skoog. Moreover, it is easy to use, has built-in tutorials and gets running in no time. After setting up and programming the Skoog, you can check the settings by playing with the basic sounds on the Skoog. If you find the triggers hard to push for music then you can adjust the sensitivity settings.
Conclusion
Skoogmusic Skoog 2.0 Tactile Musical Interface is a tool designed for music applications. Not only this it helps in social and learning situations with durability and safety in mind. It is a learning or inclusion device with soft kid-friendly material. The design focuses on making music-creation fun, accessible and expressive for children, parents, teachers, and families, including those with disabilities. Also, you can program it to make any sound using words, images with the apps Skoog, Scratch and Access. All you need to do is download the Skoog app and connect it with your iOS or macOS device. You can pair it via Bluetooth or USB and connect it with your favourite music app. You can explore, and play with Skoog and its supporting apps. It lets you create your own music, learn how to code, drive and control robots using Skoog in Apple Swift Playgrounds.
Read More!