Apple's iPhone is performing really well with cutting-edge performance, premium design, and range of features. Apple's iPhone 7 Plus, launched back in Sept 2016, is performing really well except one factor, which is battery performance. After one year of complete use, iPhone 7 Plus battery isn't offering peak performance. There's why you need to buy a replacement battery. A replacement battery is a type of battery for use in place of an existing battery. It gives the same or similar operating and performance characteristics. We'd like to share a few quick, but important facts about iPhone 7 Plus replacement battery with you right now before we proceed with the reviews:
Apple's original batteries are designed to go through 500 charge cycles
Battery problems are quite common as your phone ages
In some cases, when the battery wears out, the phone also slows down
When Should You Change Your iPhone Battery?
If you've had your iPhone for awhile you may have noticed that it doesn't last on one charge as long as it used to or that it's slowed down considerably. Sound familiar? Well, it might be time to change your iPhone battery. Apple recently acknowledged that their lithium-ion batteries gradually lose their ability to maintain a full charge over time. After 500 charge cycles, the battery capacity can drop to 80% or even lower. At that point your iPhone may intentionally slow itself down in order to prevent your aged battery from failing.
How to know if your iPhone battery needs to be replaced
The best way to know if you need to replace your iPhone battery is by going to Settings > Battery > Battery Health. On this page, you will see a quick overview of your battery's health via its "Maximum Capacity" and "Peak Performance Capability".
"Maximum Capacity" is a measure of the battery's capacity relative to when it was new. A brand new phone should read 100% and will reduce over time; the lower the percentage, the faster your battery will deplete on one charge.The "Peak Performance Capability" measure is more of a 'Good', 'Not-so-good' or 'Bad' scenario. If your phone reads "Your battery is currently supporting normal peak performance", you are in the clear – your battery is up to par and there is nothing you need to do. On the other hand, if you see "This iPhone has experienced an unexpected shutdown… Performance management has been applied…" it's a sign that your battery is experiencing some significant wear.
Circumstances you need to change your battery
Here are a few other ways to tell that your iPhone battery might need to be replaced:
If you're having to recharge your battery every few hours, even when usage is low, it might be time for a new battery
When the phone unexpectedly dies when the battery is 10% or higher, this could be a sign of a battery worth replacing
If your iPhone only works plugged it, you guessed it – replace the battery
OR if you're looking for more of a scientific approach, you can download an app like Battery Health which gives you a look into battery capacity, power usage, etc.
Note: There are some abbreviations used in the blog which might be difficult to understand. Down below are full form and a short definition for you'll to have an easy understanding
UL: It stands for Underwriter Laboratories, a third-party certification company that's been around for over a century. They certify products with the aim to make the world a safer place for both workers and consumers. UL testing makes sure that wire sizes are correct or devices can handle the amount of current they claim to be able to. They also ensure that products are constructed correctly for the highest safety.
ROHS: It stands for Restriction of Hazardous Substances Directive. Basically it certifies that there are few/no materials in a product that is on a list of known-toxic materials. Probably the biggest impact of this is the removal of lead-based solder from most recent electronics.
FCC: It stands for Federal Communications Commission. It is an agency of the United States federal government that was created to regulate all forms of telecommunication inside of the U.S. Including radio, television, digital cameras, Bluetooth, wireless devices, and a broad gamut of RF electronics. If it is an FCC certificate, it means the product has been tested to comply with FCC standards and it has been approved.
CE: It stands for Conformité Européenne(French for "European Conformity"). It is used to show a product meets the requirements needed to be sold in Europe. The specific requirements for the mark vary depending on the nature of the product.
What you should keep in mind when looking for the best iPhone 7 plus replacement battery?
Before you settle for choosing your iPhone 7 Plus battery replacement, we'd recommend you to prefer a phone battery that has got all the certifications: RoHS, CE, and FCC. Most importantly, buying a complete replacement kit with the battery replacement would benefit you. Some other factors to look out for are:
Warranty
Recharge cycles
Battery power
Customer care support
Let us see some top replacement batteries dominating the list.
JBEIY Replacement Battery for iPhone 7 Plus
This 3500mAh iPhone 7 plus replacement battery kit ONLY works for model A1661/A1784/A1785. More importantly battery capacity is about 20% higher than the original, so you will get more usage time. Battery cell energy density is upgraded to store more power, bring more standby time. Plus it is UL, FCC and PSE certified. They have a very high-quality battery material. moreover, it is very easy to install as there are tools and instructions available. It comes with a 24-hour response, over 30-day money refund, 12-month warranty.
Package includes:
An iPhone 7 Plus battery
1 Pentalobe Screwdriver
A Phillips Screwdriver
One Y Screwdriver
A Tweezers
One Spudger
A Suction Cup
An Adhesive Strips
One Opening Gasket
A Installation Guide
LeeVee 3500mAh Replacement Battery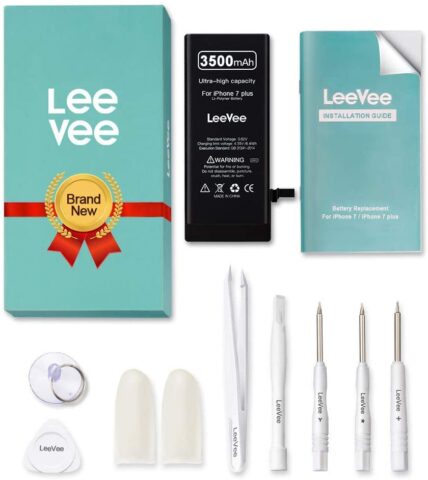 This Replacement Battery is for iPhone 7 PLUS only A1661, A1784, A1785. Grade A+++ cells ensure longer battery life and high-speed, efficient charging. Plus 20% more power than the original battery. Also, the brand new 0 cycle. Built to last up to 500 charging cycles. Moreover FCC, CE, ISO9001/14001, and RoHS Certified and tested under high-quality standards. Added very easy to install as for all the tools available in the package with instruction. Although 3 years Warranty, 24-Hour reply and 30 days Money Back.
Package includes:
Step-by-step instructions
A Battery
One Pentacle screwdriver
1 Phillips screwdriver
One Y-Shaped Screwdrive
A Suction cup
One Tweezers
One Wedge
A Spudger
2 x Adhesive Strips
DAXTROMN iPhone 7 plus Replacement Battery
Designed for iPhone 7 Plus ( Models A1661, A1784, A1785).Grade A+ battery, High Capacity 3300mAh, 13% higher power than the original battery. That results in more battery life, high-speed, efficient charging. Plus it has high safety from over-heating,over-charging, short-circuiting. Also brand New 0 Cycle and FCC, CE, and RoHS Certified. Mostly very easy to install and has a set of repairing tools in it. moreover, 2 years Warranty and 30 days Money Back.
Package includes:
1 Battery
1 set of spare screws
The Set of Adhesive
One Spudger
A Metal Tweezer
One Pentalobe(Five-Star) Screwdriver
Philips Size Screwdriver
An Opening Tool
A Suction Cup
One Sim Eject Tool
YONTEX High Capacity Li-ion Replacement Battery
This battery is only Compatible with iPhone 7Plus, model A1661, A1784, and A1785. It has 17% more power than the original battery. To prolong the phone service time, use the high capacity battery directly instead of shutting down some apps all the time. Plus it is a brand new 0 cycle. An internal IC chip that prevents any kind of harm to the battery. Above all FCC, CE, and RoHS Certified. Also very easy to install with all the repairing tools and set of instructions. Moreover, 24-hour reply, 30-day money-back, 24-month warranty.
Package includes:
1 High Capacity Battery for iPhone 7 Plus
Set of Adhesive
A Spudger
One Metal Tweezer
A Pentalobe Screwdriver
One Philips Size Screwdriver
An Opening Tool
One Suction Cup
A Sim Eject Tool
1* Screen Protector
iHWG iPhone 7 Plus Battery Replacement
Designed only for iPhone 7 Plus models: A1661, A1784, A1785. This grade A+ quality battery 3300mah with a brand new 0 cycle. Plus it is built to last up to 500+ cycles i.e. more battery life. Also each battery is CE, FCC and RoHS certified. More importantly tested by professional machine 3 times before every over recharging, short-circuiting, etc protection. Eventually very easy to install as per all tools and instructions available. They provide offers 30-Days MONEY-BACK and friendly customer service.
Package includes:
1 x Battery for Apple iPhone 7 Plus
One Instruction Manual
2 x Set of Adhesive
A Spudger
One Metal Tweezer
1 x ""+"" Pentalobe + ""*"" Philips Screwdriver
"Y "Screwdriver
4 x ""✲""Screws
An Opening Tool
A Suction Cup
ockered iPhone 7 plus Replacement Battery
Manufactured in 2020 brand new battery with 3400mAh high capacity. Also 16% more power than the original battery. Plus the product is certified by CE / RoHS / FCC safety. Moreover Internal IC chips available that prevent the battery from every kind of harm. it is tested by a professional machine 3 times before shipping. Very easy installation due to tools that are available in the package with a set of instructions. They give 24-Hour Reply, 30-Day Money Back, 24-Month reissue.
Package includes:
Video guide step by step
1 high-performance battery (iPhone 7P)
One Phillips screwdriver
A pentagram screwdriver
One Triangular screwdriver
2x Hard plastic electrode
1x glue set
A suction cup
2x Lever
One Tweezers
2x set of adhesive tapes
What to do before and after installing
Click here to see the content……

Please read the instructions carefully before installing the battery. Otherwise, it may damage the mobile phone. Plus if you want to replace the battery more easily. Then relevant videos of replacing the battery on YouTube are highly recommended. Before you begin, discharge your battery below 20%. Moreover, if you are unable to turn your phone on after installed. Please try to reconnect the battery connector and charge the phone. At the first beginning, the battery will drain quickly. This issue is caused due to the li-ion of a new battery is unstable. It will become normal after long-term use. Also to use the battery longer, please use up all the energy of the battery until your phone shuts down automatically. Then charge it for up to 10 hours, repeat this 3-5 times. Thus the battery can be reached the optimum effect of using.
---
Which One should you choose?
Most people go for the best price with best mAh and high quality and high safety. In short, they go for a one in all replacement battery. If that's the case, go on for YONTEX High Capacity Li-ion Replacement Battery. As it gives a 17% increase in power than the original battery. Plus has imported IC chip. Also, it is FCC, CE, and RoHS Certified. More importantly, it has a 24-month warranty and with the best price.
Let us know your precious reviews.Like,comment and Share.Thank You.
*Price was correct as on 15th May 2020.
Read More!